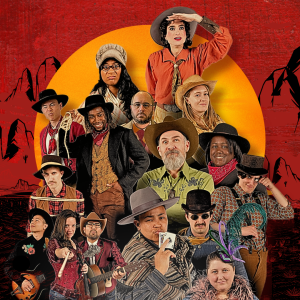 An interview with the Directors of WIT's new show, "Tumbleweed!"
WIT adds 25 new players to Harold teams
WIT updates masking protocol in response to public health guidelines, community feedback
WIT's summer performance series Genre is a Construct kicks off this week with some rootin-tootin fun that audiences won't want to miss. In particular, WIT's latest Directors Series production Tumbleweed! is one of our most ambitious shows in recent years.

It's a Western that playfully pays homage to the genre, while subverting the stereotypes and traditional conventions that the film genre has spawned. As with all of WIT's improvised shows, the 50-minute Tumbleweed! is completely unscripted and totally made up in-the-moment based on a suggestion from the audience. Unlike most of WIT's performances, however, it features an elaborate set, vibrant costumes, and a cast of 13 improv actors along with live musicians, who will create a brand-new score for the show each night. This is our first costumed production since 2019 and includes the largest number of musicians involved in a WIT production since 2018.

We moseyed on down to Studio Theatre – the 14th St. NW venue where the show will take place – and asked Tumbleweed! Creator and Director, Jared Smith and Co-Director, Macey Schiff to spill the proverbial campfire beans about the creative process.

WIT: How did you come up with the idea of doing an improvised Western?

Jared: During the pandemic one thing I did to help pass the time was watch a lot of films that I either hadn't seen before or in a long time. Some of the ones I enjoyed the most were the "Spaghetti Westerns" of Sergio Leone. They're all so beautifully shot and scored. I'm also an avid hiker, which means I have time to let my mind wander. Early last year, my mind wandered upon the idea of a Western improv show bringing together music and costumes, and the kind of wild energy that is usually reserved for Improvapalooza shows. (Editor's note: Improvapalooza is WIT's annual festival of experimental improv. The 2023 edition takes place from August 2 – 6.)
Macey: Tumbleweed! was Jared's idea! He reached out to me to see if I might be interested in collaborating on the project and it was an immediate "YES" for me. It just sounded so fun!
My favorite piece of Western media is actually my favorite video game, "Red Dead Redemption 2," which I also initially started playing during the pandemic! I don't really talk about it much but, in short, the game follows a beautiful and heartbreaking narrative about a seasoned outlaw and his gang trying to find their place in a world that's evolving past them. It plays like a feature film with dynamic character development, an incredible original score, and insane attention to detail. Again, I definitely don't talk about it a lot, I just brought it up in that first conversation with Jared, have frequently referenced it with the rest of the cast, and mention it here once more, which (if you know me), is completely out of character. (Editor's note: We're pretty sure she talks about the game to anyone who will listen.)
Tumbleweed! is not a traditional Western like a John Wayne movie that people might envision. Can you tell us about your more modern take on the genre?

Jared: This show is all about the cast being who they want to be and not pigeon holed into Hollywood tropes of what a Western is. We want everyone on stage bringing elements of themselves, or anything they want to represent, into the Western genre regardless of whether they've seen it before. There is so much talent and individuality in our improv community. I think the characters in Tumbleweed! will showcase this very well.

Macey: We've been encouraging the cast to explore and analyze traditional Western tropes including, for example, what it truly means to be a hero and a villain, and how these roles can be incredibly nuanced. Characters are different things to different people in different situations. For example, a hero to some could still be a villain to others, and someone who initially seems like a hero can evolve into a villain, and vice versa. Any character that exists in the world we're creating is multidimensional. The cast is brilliant at it – frequently challenging the hard line of the good vs. evil narrative, while introducing elements like vulnerability, authenticity, and depth that make us genuinely care about the characters and what happens to them.

This is a "high production" show! Tell us more about all the special elements that make it so unique.

Jared: When I came up with the idea for this show and pitched it to WIT, I explained that I wanted to put something together that would get our improv community really excited to see a show. I was thinking big, knew I needed a lot of help, and was really fortunate that my dream team came on board to help make it a reality.
Bill Nelson's professional expertise has resulted in some unbelievable costumes. He worked one-on-one with each cast member to help craft a look they were inspired to showcase on stage. These are the best costumes I've ever seen on a WIT stage. Erick Acuña has brought his musical talent and leadership to build a band with a sound that really enhances our show. They've sounded amazing in rehearsals and offer up something different from the musical improv seen on our stages over the last several years. When you add in the technical elements devised by Martin Steger, our audience is in for a very unique, high-level experience.
Macey: Whenever I'm describing the show I always enthusiastically say "it's a WHOLE PRODUCTION!" because it is!! And, it's grown into the production that it is because every single person on the creative team is wholly invested in working together to make the show the best it can be. It's a passion project for all of us.

I remember Bill's incredible work from Starship Odyssey, an awesome WIT special project that ran in 2019, and was so excited when I learned he'd be doing costumes for this show. His passion, innovation, and attention to detail leave me consistently in awe. I've been lucky enough to work with Erick a bunch over the years, performing together in Improv Actually, another former WIT special project, co-teaching a WIT class, and even leading improv workshops abroad together in Brussels and Berlin! He has this innate ability to create spaces where everyone can shine, and his work on Tumbleweed! is no exception. All of the musicians are improvisers AND incredibly talented at both… Improvising a comprehensive musical score live is no small feat but they make it look easy. Martin is very experienced and meticulous in his work and it shows. Months ago, he directed and filmed our amazing audition promo videos, and he has brought the same level of investment to other elements of the show ever since. That's been absolutely crucial.
Tell us about your cast and the rehearsal process. How has the production evolved?

Jared: The cast and musicians are awesome. They have a great attitude in rehearsal and have been so eager for every aspect of the process. They've been stars from the start and we've just tried to focus on giving them what they need at the top of the show to set up a fun story and then follow their instincts. They're going to turn some heads all month!

Macey: The cast is phenomenal, simply phenomenal. From day one, they've approached every rehearsal with sincere enthusiasm, curiosity, and authenticity, allowing the production to evolve in ways it otherwise might not have. They are deeply invested in each other's success, and frequently cheer each other on during rehearsals, which is such a delight. When the musicians started joining rehearsals, it was clear that they brought the same energy, and their presence strengthened what was already a really solid foundation.

What has been your favorite part about the creative process?

Jared: Seeing the excitement of the cast as we close in on our performances.

Macey: Those moments in rehearsal where a bold move is made, an unforeseen twist reveals itself, or other surprises unfold and the performers, and anyone watching, are so invested that everyone just loses it all at once in a brief burst of pure chaotic energy.
Get tickets to Tumbleweed! today!