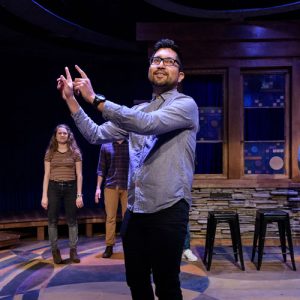 Erick Acuña Pereda
Washington Improv Theater
Jared Smith
Clare Mulligan
Erick learned English (and calling out the unusual thing in everyday life) by watching Seinfeld.
Erick is from Peru, a magical place known for Machu Picchu, ceviche, and … comedy. He first studied improv at Ketó Improv Theater in Peru, and after moving to the US to work as a human rights lawyer he completed both Washington Improv Theater's (WIT) and New York's Upright Citizens Brigade's programs.
Erick performs at WIT with Harold team Ruth, Poetic Resistance, and Improv Actually. He directs WIT's rock comedy Heavy Rotation. He is also a member of 2019 WIT's Fighting Improv Smackdown Tournament winners The Broken Bones.
In addition, he performs with indie teams Press Play, Captain PhD, Couch Money, Sábado Picante, and Latinx States of America; as well as One Wet Dog, and Who Did It? at Dojo Comedy and Bring Back the 90s at Unified Scene Theater. He has also written and performed the one-person show 'Acuña Acuna' and the musical show 'Quad Side Story'.
When not doing comedy or working on human rights issues, Erick spends his time biking, playing 90s punk rock and ska on his guitar, and trying to recreate his mom's Peruvian cooking.
Website:
erickacuna.com
Favorite Snack
Canchita y chifles
Born and raised in Peru, Erick learned that the language of improv is universal. Erick believes that no matter where we come from, we all can improvise. At the end of the day, improvisation is not scripted, and nor is everyday life
Erick is a Peruvian comedian and writer. He studied in 2010 at Ketó Improv Theater in Peru, and after moving to the US he completed both Washington Improv Theater's (WIT) and New York's Upright Citizens Brigade's programs. He has also completed the Comedy Writing program at The
Second City.
Erick performs at WIT with Harold team Ruth, Poetic Resistance, and Improv Actually. He directs WIT's rock comedy Heavy Rotation. He is also a member of 2019 WIT's Fighting Improv Smackdown Tournament winners The Broken Bones. In addition, he performs with indie teams Press Play, Captain PhD, Couch Money, Sábado Picante, 200 Person Improv Team and Latinx States of America; as well as One Wet Dog, and Who Did It? at Dojo Comedy and Bring Back the 90s at Unified Scene Theater. He has performed and led improv workshops around Latin-America and Europe. He has also written and performed the one-person show 'Acuña Acuna' and the musical show 'Quad Side Story'. You can find out more at erickacuna.com
Photo by Jeff Salmore
STUDENT FEEDBACK
"Erick was a fantastic instructor! He fostered such an open and fun environment to practice in and always provided very candid and constructive feedback."
"Erick brings a great deal of enthusiasm to his teaching. He excels at highlighting specific behaviors and actions that help a scene along, and continuously offers clear and meaningful support to everyone in the class."
"Erick was wonderful. Each week very clearly built on the class prior, and I feel like I received very clear ways of thinking about characters and perspectives. Also time was utilized very well as he filled the class with actual exercises that helped me practice and improve."
"It was such a joy learning under Erick, he was very supportive during class. He gives thoughtful and detailed feedback to every player and shares with us the great techniques he has as a performer."
"Erick's instruction was incredible. He provided tools and feedback to help me move forward as an improviser. He sets a great tone for the class and also helps us understand the structure of game that propelled my ability to improvise forward."
Favorite improv warm-up
Anything that requires singing
Hidden Talent
Not getting lost without a GPS