Discover a new sense of freedom and play. Meet other fun and interesting people. Taking a class at Washington Improv Theater is the perfect way to unleash your creativity and connect with others.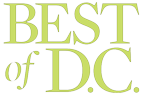 WIT is the Best of D.C.! Our classes were named "Best Art Class" by readers of the Washington City Paper in the 2023 Best of D.C. Reader's Poll.
MAKE TIME FOR FUN AND LAUGHTER
Our classes are geared toward fun. Meet fun and interesting people while building your skills! Our students and teachers have found improv as a time to connect, and a time to break away from the relative monotony of what's become "the new normal." With in-person and masked classes, you'll have the opportunity to connect with lots of new people who bring their own unique experiences. 
LEARN THE FOUNDATIONS OF IMPROV
WIT has started in-person classes again —so you can start taking our regular 8-week classes now!
Questions? email classes@witdc.org or call Education Manager Kacie Peterson at (202) 495-0958.
TRY IMPROV FOR FREE
You can also get a taste for what improv is all about in our free 1-hr community workshops. They are low stress and a ton of fun!
EXPLORE ALL OUR CLASSES
We are constantly offering new and exciting electives on subjects like Stand-up Comedy, Sketch Comedy Writing, Writing Your First TV Pilot, Comedic Songwriting and more!
We also have more advanced improv classes to suit a range of schedules for the busy improviser. You can learn new formats, become a better character actor, learn accents, or sharpen your improvised comedy skills.
Whether you are brand new to WIT, an improv newbie, or an experienced improviser, there's a class for you.
FUN ELECTIVES AND ONE-OFF WORKSHOPS
There's always a new 4-week elective starting soon! Check back often or email us at classes@witdc.org to suggest a class.
We also offer one-time workshops with a variety of guest instructors.
DO YOU HAVE SOME PREVIOUS IMPROV EXPERIENCE?
Improvisers of all experience levels are invited to play and connect during free bimonthly online improv jams.
If you completed an 8-week course at another theater, feel free to jump directly into our Level 2 classes. Reach out to classes@witdc.org with any questions.
What's it like doing improv online?
Our students truly love it! One student said "It's the next frontier, perhaps, in comedy. I can express my own experience through my characters. The comedy is a release valve for the everyday experiences."
Frequently Asked Questions
We beat you to the punch. Here are some questions you may be wondering about.
Can I miss classes?
When registering for classes, make sure it fits with your schedule. It's okay if you miss a class but not more than two. The showcase is also not required but trust us, you will be having so much fun you won't want to miss any of it!
I've done improv before, which class should I start with?
If you have completed the curriculum at another long form improv theater, please email classes@witdc.org to discuss which class to start. WIT is dedicated to making sure that you enter into our program where it is right for you and for your potential classmates! Please be prepared to provide the following information:
Where did you previously study improv (university, another improv school)?
Who were your instructors?
When did you complete the curriculum?
Any additional classes or relevant experience we should know about?
If you have not completed a curriculum at another long form improv theater the highest level you will be placed is Level 2. If your Level 1 did not provide 20 hours of long form instruction, or it's been more than two years since you've taken classes, you will be asked to start at Level 1.
Do I have to be funny to take a class?
Heck no. If you have a great sense of humor already, that's awesome; our program is definitely for you. But the classes are about finding the humor in yourself and in the world around you. The only prerequisites for our Foundations of Improv class are an open mind and a desire to have fun.
What's the next step?
Check our class offerings to determine the level best for you and register!
Do you offer classes for kids?
Our regular classes are intended for participants 18+, but we can do engagements for youth. Visit our youth page to learn more about what we can do.
How do online classes work?
Classes will be held online via Zoom. Participants will need a laptop, a desktop with a webcam, or tablet with a stand/keyboard. We do not recommend using a phone for this class.
Do you sell gift cards?
Yup! We use the service Gift Up to sell gift cards (a 3.49% transaction fee applies). If you know the class your intended recipient wants to sign up for, you can also email classes@witdc.org to avoid the service fee. We will arrange for you to pay by phone.