Improv is so much fun, it's not fair for the adults to have it to themselves. We can customize workshops, performances, and parties for kids based on your requirements, and let them laugh, collaborate, and have an amazing time!
WIT has been sharing improv with kids all over the District in workshops and free after-school programs for years. We've worked with kids at private parties as well as in classrooms at Marie Reed Elementary, Sasha Bruce House, Sitar Arts Center, Murch Elementary School, Kingman Boys and Girls Club, and many more. Our youth programs encourage expressiveness and foster creativity, fun, listening, empathy, and communication skills—ingredients in life for successful and happy humans of any age!
Feedback from grown-ups:
"It was fascinating to students that are typically categorized as 'shy' get involved in this improv experience. They stunned themselves with this output of beautiful ideas and random thoughts as they interacted with their peers."
"The after-school improv classes were extremely fun for all the students involved—they loved the creativity they could put into their participation and enjoyed the activities that built their skills to react on the spot."
Get In Touch
Fill out this form to let us know what you're looking for. If you have more in-depth needs, email Education Manager Kacie Peterson at classes@witdc.org.
Birthday Parties and Youth Workshops for Hire
We are happy to bring improv to you for any occasion.
Birthday parties, bat mitzvahs, and ice-breakers for youth events. WIT will customize a workshop to your needs and find the right instructor to match your event. If you've got an event already planned, improv is a great way to engage everyone with fun, high-energy exercises while unleashing kids' innate creativity.
We can host workshops too! Bring your refreshments, snacks, and cakes to the theater. After the workshop is over, everyone can celebrate together. We have tables and chairs that can be easily moved around for when the improv is over. You can even schedule an event inside the black box theater to get the rich experience of being on stage with friends and family.
The NitWITs: Theater for Young Audiences
Washington Improv Theater's crew of NitWITs makes improv fun for the whole family. Honestly. No clowns. No giant-headed creatures. Just hilarious improvised theater.
Every NitWITs show is a high-energy, unique theater experience for families. You've never seen anything like it before! And you'll never see anything like it again…because it is all made up right on the spot with the help of your suggestions.
Audience members guide the cast in making up spontaneous stories and playing fun theater games in a family-friendly, relaxed atmosphere.
This show is recommended for ages 6 and up.
Cast: Tara Demmy, Donna Steele, Molly Graham, Lauren Cross, JJ Jackson, Eileen Breslin, Devin Horne, Jack Novak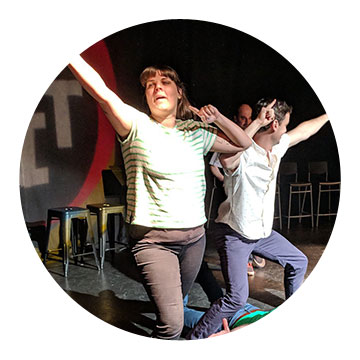 Frequently Asked Questions
You got questions? We got answers!
Q: How many kids can participate in a workshop or party?
A: We can accommodate up to 10-25 participants for parties and workshops. Fewer students can make it tougher and more is a bit overwhelming for one teacher. We are always happy to discuss scheduling more than one teacher for any size group!
Q: Where are the events held?
A: We need an open room that can handle the number of participants standing in a circle. If you want to come to our theater space, that's totally fine! But scheduling can be a bit trickier.
Q: What's the best age for these activities?
A: If the participants are under 18, it helps to get an age range so we can customize the lesson plan.
For 18 and under we typically need 60-90 minutes. Less than 60 minutes is doable (but less rewarding) and more than 90 minutes can be harder to keep kids focused.
How to Engage with WIT
Learn more about how you can work with WIT for Youth!
We look forward to hearing from you! Get in touch:
Fill out this form to let us know how we can work together.
Email classes@witdc.org with any questions about WIT for Youth.
Subscribe to our youth email list to stay up-to-date on upcoming events and shows for kids.