Level 2: Scene Dynamics
Learn how attitude, physicality, and objectives can provide a filter for your characters. Work together with your partner to discover and play hilarious dynamics.
Mastering Object Work with Jack Novak
Level 3: Game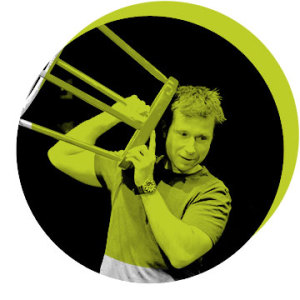 After learning the language of improv in Foundations, now you can begin to put together killer scenes. Lay a solid foundation for your scenework by learning to make initiations with purpose, recognize the fun of your characters, and heighten their behaviors.
Class will be held in-person unless otherwise noted. Participants will be required to upload proof of vaccination against COVID-19 upon registration.
As of January 30, 2022, all students MUST receive a COVID-19 vaccination booster shot in order to participate in classes.
The health and safety of students and teachers are top priorities at WIT.
As of May 13, 2023, classes will be categorized as either "Masks Optional" or "Masks by Survey" at the point of registration.
Masks Optional allows individuals the choice to wear masks, without mandating other students and/or teachers to do so during class.
Mask by Survey allows the class to determine whether masks are mandatory or optional via anonymous student and teacher surveys. If unanimous agreement is reached, masks will be optional. However, if even one participant opts for masks to be mandatory, the class will require the use of medical-grade masks (including surgical masks and N-95s) during sessions.
Please note that students are expected to provide their own masks in such cases, as WIT and its venue partners will not be supplying masks.
WIT reserves the right to modify these policies in response to changes in public health situations. We appreciate your understanding and cooperation as we continue to prioritize health and safety in our community.
Photo by Andrew Bossi
Prerequisite:
Level 1: Foundations of Improv or completion of an 8-week long form improv class at another theater.