Level 3: Game
Recognize the absurd and funny moment in a scene. Develop the skills to focus on it.
Level 2: Scene Dynamics
Level 4: Ensemble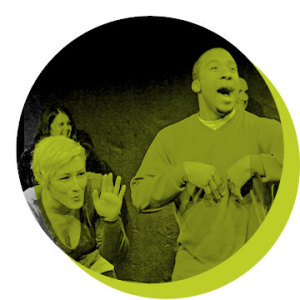 One of the cornerstones of improv is discovering the game of the scene. Learn to become a more active listener so you, along with your scene partner, can recognize the fun of a scene together. Sustain longer scenes by establishing patterns by keeping the focus on heightening the game. This tool will help you explore the world you've created and add more depth to your performance.
Class will be held in-person unless otherwise noted. Participants will be required to upload proof of vaccination against COVID-19 upon registration.
As of January 30, 2022, all students MUST receive a COVID-19 vaccination booster shot in order to participate in classes.
The health and safety of students and teachers are top priorities at WIT.  Starting March 1, each class will determine whether masks are mandatory or optional in class, through a student and teacher survey.  If everyone in the class agrees, masks will be optional. If even one person requires masks to be mandatory, medical-grade masks (including surgical masks and N-95s) will be required during class. 
Photo by Andrew Bossi
Prerequisite:
Level 2: Scene Dynamics (previously Foundation of Scenework) or permission from the Education Manager.