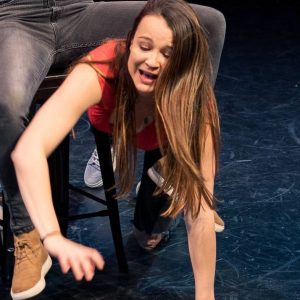 Kelsey Peters
Washington Improv Theater
Shawn Westfall
Nicole McCauley
Through comedy, Kelsey aims to break boundaries, societal norms, and the seams of her pants.
Kelsey graduated WIT in 2016. She has since completed the curriculum at Dojo Comedy, and taken classes at the Upright Citizen's Brigade Theatre. She is the director of The Feminine Experience, an improvised tribute to Eve Ensler's The Vagina Monologues. Kelsey currently plays on WIT Harold Team Wonder Whale. She takes on the world with her independent teams Puss and Kooch, Trustfall, Unknown Number, One Wet Dog, and Dojo Comedy House Team, Maple Sunday.
When not improvising, Kelsey can be found considering her cats' feelings, taking a long bath, or doing stand-up and sketch comedy.
Photo by Kian McKellar
Hidden Talent
Losing jewelry
Favorite drink of the Gods
Sprite
Kelsey believes everything you need to learn about improv can be learned from a preschooler: why would you watch that kid eat mud when you can eat it together?
As a teacher, Kelsey creates an environment where no one feels like the "weird kid," because she believes that in reality, we're all the "weird kid." With support from teammates, she believes every unusual choice or mistake can be made into great, original comedy. By empowering students to let loose and to celebrate differences, she hopes to teach her students to become the ultimate fun exposers
She taught preschoolers for three years so she's legit, but she's also completed the curricula at Washington Improv Theater and Dojo Comedy, and has taken classes at the Upright Citizen's Brigade Theatre.
She plays on independent teams Trustfall, Couch Money, Rancy Neagan, and One Wet Dog. She was the assistant director for Vagina! An Improvised Monoglogue show. When she's not improvising, she's walking her cat, practicing yoga, or buying everything at REI.
Student Feedback
"Kelsey made everyone feel instantly comfortable, any intimidation I had was totally gone by the 2nd class. Improv night became my favorite night of the week!"
"Kelsey's style of teaching improv feels like a friend teaching you something new that they are excited about."
"Kelsey did an amazing job working with first time improvisers to make us feel comfortable. Right from the beginning, the classroom was a safe space. She never asked us to do something she wouldn't demonstrate herself, so we could take risks and really learn without fear. Her feedback was always helpful and she worked hard to make sure we had a great foundation to build on."
Photo by Kian McKellar
Number of motorcycles crashed while test driving
1
Number of crashed motorcycles she owns
1
Life philosophy
Mistakes are gifts