Level 4: Ensemble
Create rich scenes featuring dynamic characters. Experience firsthand how rooting scenes in agreement permits discovery and complexity beyond merely setting up a premise or a conflict.
Level 3: Game
Level 5: Harold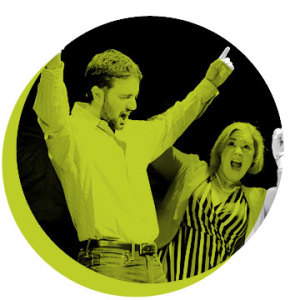 You've learned how to listen, how to 'yes and,' and embody a variety of characters. Now it's time to really dig in to working in an ensemble. Put all the pieces together and collaborate with your classmates to create memorable scenes full of vivid characters and sharp games.
Class will be held in-person unless otherwise noted. Participants will be required to upload proof of vaccination against COVID-19 upon registration.
As of January 30, 2022, all students MUST receive a COVID-19 vaccination booster shot in order to participate in classes.
The health and safety of students and teachers are top priorities at WIT.  Starting March 1, each class will determine whether masks are mandatory or optional in class, through a student and teacher survey.  If everyone in the class agrees, masks will be optional. If even one person requires masks to be mandatory, medical-grade masks (including surgical masks and N-95s) will be required during class. 
Prerequisite:
Level 3: Character or permission from the Education Manager.