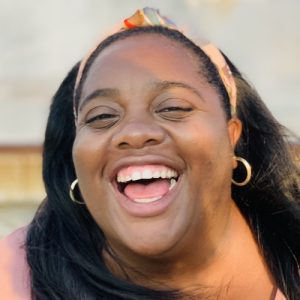 Samiyyah Ali
(she/her)
Washington Improv Theater
Kevin Eggleston
Cerra Cardwell
Beginning with her acting debut as "Playing Card #2" in a middle school rendition of Alice in Wonderland, Samiyyah has a long history of playing made-up characters.
Over time, and once Samiyyah was given actual lines to deliver onstage, she fell in love with all things theater, including dancing ballet in the Nutcracker, playing the violin for musicals, and performing the monologues of old, wise Black women in period pieces. After finding that her work as a lawyer did not result in many (intentional) laughs, she began taking improv classes at WIT and sketch classes from UCB.
Since then, she's performed improv as a member of (y)Our Town and Not a Pyramid Scheme at WIT, served as a rotating cast member of Hold Up! A Black Book Club, performed original monologues for Just for Laughs' Characters Welcome, and performed in the duo The Carmichael's. These days, you can find her around town performing with indie teams Baggage Claim and Out Loud, and ensemble Uncle Gorgeous. Her go-to mantra is "Full Body, Clear Emotions, Can't Lose." And yes she made that up just now.
Inspired by a true story.
Favorite Historical Figure
Madam CJ Walker
Favorite Movie to Survive Puberty
Bend It Like Beckham