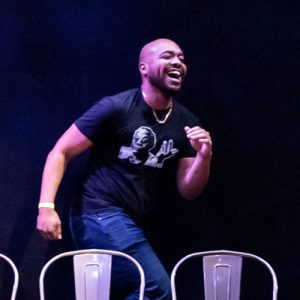 Eddison Wilkinson
(he/him)
Washington Improv Theater
Fred Hill
Precious Jenkins
Eddison was raised in North Carolina where he grew an appreciation for living life slow and drinking sweet tea with every meal.
Eddison began taking improv classes in 2015 at the Idiot Box Comedy Club in Greensboro, NC. He fell in love with the character work, impersonations, and storytelling involved with improv comedy. After finishing up the coursework, he was selected as a regular performer for the house team. He also trained and performed with Charlotte Comedy Theater in Charlotte, NC. A global pandemic and move to DC placed a pause on his performing (bummer). However, in 2021, Eddison began taking WIT classes online. He later joined the independent team, Baggage Claim, who went on to become 2022 FIST Finalists.
When he's not performing, Eddison is watching 90 Day Fiance or playing JUST DANCE on his Nintendo Switch. Or really just anything on Nintendo Switch.
Personal Motto
We're all doing the best we can.