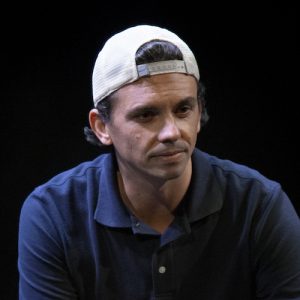 Jared Smith
Washington Improv Theater
Jessica Norman
Erick Acuña Pereda
Jared is a meteorologist who controls the weather so next time you see him in a show and don't laugh don't act like you weren't warned.
A product of the WIT curriculum, Jared has been a member of LIZARD GIRL since its 2016 inception and sings but plays zero instruments in the rock comedy Heavy Rotation. Additionally, he is a founding member of long-running independent team Huggy Smalls: The Notorious H.U.G. and a former robesman in the secret society known as The Lodge.
When he's not improvising or meteorologisting, you can probably find Jared hiking, playing tennis, or watching race cars drive around in circles. One day he will merge all these passions into an improv show that no one will understand or enjoy. You better laugh, though.
Photo by Mikail Faalasli
Best Dance Move
Air Guitar