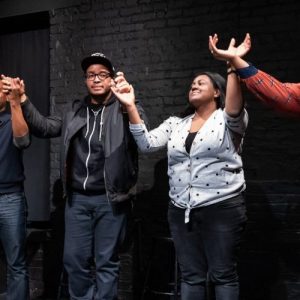 "We want to create an experience where people feel seen": An interview with The Cookout's Krystal Ramseur and Jamal Newman
Who's Who: The teams of FIST 2020
WIT announces auditions for new production: First Comes Love
Coming up on February 16 and 17 is The Cookout, WIT's first-ever celebration of Black improv in the DMV area. Curated by featured ensemble Lena Dunham, the show features homegrown WIT talent including the debut performances of two new teams who feature all-Black casts. We talked to the directors of the event, Krystal Ramseur and Jamal Newman from Lena Dunham, to learn more about how the show came to be, what audiences can look forward to, and their ideal cookout menus.
Tell us: What is The Cookout? What can audience members expect from this show?
Krystal Ramseur: The Cookout is a celebration of Black talent in the DMV. February is Black History Month and we want to do something special. We want these two nights to feel like the best Black family cookout that also showcases the amazing talent in the area. There will be music, dancing, and of course hilarious improv shows. If you're able to make it to opening night, there will also be food to kick off The Cookout.
Jamal Newman: We are trying to have an "all Black" night of improv, something that I have not been able to witness in the DC area before. I saw it in LA and there are teams in New York, but I don't want to have to travel to see it. So, this event is getting to have that magic here in DC. Audience members can expect a little bit of a different vibe than maybe they are used to at other improv shows. Come to the show open-minded and you may just leave with your mind blown.
Where did the idea for the show come from? How did the plan come together?
KR: I love shows and events that bring people together. Jamal and I had talked before about how we wanted to see more all-Black teams. So when the opportunity to program shows for Black History Month came up I thought this could be the perfect way to bring people together, showcase Black creative talent in the area, and form new teams. And making this event a cookout feels so right. What better way to bring people together?!
JN: During the week of the 2016 inauguration I saw a show in LA called "Obama's Last Week in Office." This show had three Black improv teams on it: Arcade Currency, Obama's Other Daughters, and White Women. It was mind blowing. Not just in talent and performance of the shows but my almost naive realization that this many Black people do improv. For most of my improv upbringing, I've been one of one [Black players] on any team I've been on, so to see full squads and no overlap of membership between the teams was something that touched me deeply. I remember on the plane ride back to DC thinking of a plan to put together an all-Black team in DC. Lena Dunham is formed from that as a homage to White Women. That wasn't the end of it, though. I really wanted to see a night of all-Black improvisers on different teams doing shows in DC. So when WIT approached Krystal and I about this opportunity, we had to jump at it. 
Why did you name the show The Cookout? 
KR: When I think about a cookout, I think about all of my family coming together to celebrate and laugh. It's tradition. 
JN: "BBQ at Big Momma's House" was trademarked and "Who Put Raisins in the Potato Salad" was too long.
Two new improv teams with all-Black casts will debut at The Cookout. That must be exciting for you as directors. What can you tell us about these teams? Do you hope we will see them again in other shows? 
KR: Having two new teams debut is so exciting. One of our goals for creating this show was to bring together Black voices within the community. At our first meetup with The Cookout cast, multiple people said, "I had no idea this many Black people are doing improv." We hope that both of these teams continue to perform and that this leads to more all-Black teams and more Black people joining the improv community as a whole. Representation matters.
JN: These two teams are a mash-up squad of Black improvisers in the city, and both teams have a combination of experience to bring to the table. I want people to know there is room for more than one or two teams with Black people. Link up with the community and form a squad. Don't feel like you have to wait to ask to join an established group. One of the most exciting things for me was that as I was reaching out to find out who was interested, I didn't realize how many Black improvisers we have here. A part of me was worried we didn't have enough for two new teams but I am glad I was wrong. The Cookout is already doing its job in connecting players who maybe didn't get to mingle and share their experiences with each other before.
What impact do you hope the event will have on the audience? The artists?
KR: We want to create an experience where people feel seen. Everyone performing in the shows and working the theater for the show is Black: the tickets, concessions, tech, photographer, videographer… I hope the audience and the artists all feel that. For non-Black audience members, I hope they relate to the comedy they'll see on stage and appreciate what they can't relate to. I hope the artists feel the power and magic that is felt when marginalized groups come together to create. I hope they feel a little more whole.
JN: I just hope someone is moved when they get to see similar faces doing an art form they love, like how I was moved when I got to witness it myself.
For opening night of The Cookout, there will be actual food. What is served at YOUR ideal cookout? 
KR: Mac and cheese, baked beans, turkey burgers, corn on the cob, turkey hot dogs, potato salad, kabobs, barbecue chicken, portobello mushroom burgers, salad, Kool-Aid, coleslaw, cherry pie.
JN: Homemade baked mac and cheese, green beans, sweet potato casserole, grilled chicken, hot dogs, salad, barbecue chicken, corn on the cob, sub-zero-cold water, lemonade, and apple pie.
Join WIT for The Cookout on February 16 and 17 at Source. Tickets are on sale now!
Published:
January 30, 2020