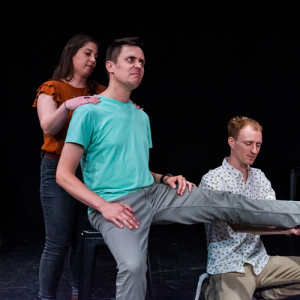 Who's Who: The teams of FIST 2020
The Broken Bones, The Hypothesis, and Ugh join WIT's stable of Featured Ensembles
"We want to create an experience where people feel seen": An interview with The Cookout's Krystal Ramseur and Jamal Newman
The fourteenth annual Fighting Improv Smackdown features a record 309 competitors, spanning 83 teams! Tickets go on sale soon, but in the meantime you can scope out the competition.
3 Giants & Alexis
Jessica Lach, Alexis Pazmino, Sara Perelli-Minetti, Alex Smith
3st Place
Sam Jackson, Betsy Milarcik, Nathan Naimark, Lisa Tucker
4 Bitchin' Amigos
Sean Doherty, Billy Harper, Eric Knapp, James Zipadelli
Across the Pond & the Potomac
M.J. Welch, Sally Murray, Will Low, Benjamin Us
Awkward Pause
Amelia Favere, Brian Fogarty, Duncan Stevens, Julie Thompson
Bonus Crew
Josh Izaak, Katie Kooser, Camille Pozderac, Gifford Wong
Can you get your sister?
Jimmy Cassese, Carra Johnson, Brian Gross, Karen Shantz
Chump Change
Maddie Black, Maya Johnston, John Wambach, Julia Zhen
Confident Orphans
Katie Lee, Laura McHugh, Christian Sheppard, Alex Swartsel
Conflict Resolution
Anna Cooper, Kevin Eggleston, Erin Murray, Krystal Ramseur
Crispy Kittens
Ralph Brabham, Tracey Madigan, James Mescall, Marcella Sims
Cute and Snobby
Allyson Boate, Danielle Ceribo, Hank McDonald, Nawal Rajeh
Dads' Night Out
Patrick Murray, Marc Reber
Damn
Marianna Brady, Namakau Ombaba,Cristina Perrone, Alex Wilkinson
Diversity Hires
Jonathan Hogue, Alison Hummel, Michelle Lapuente, Naomi Stanway
Don't Ghost Me Bro
Mark Benjamin, Christina Malliris, David Myers, Dennis Pangindian
Elderly Grapes
Tatiana Chkourenko, Stephen Gabauer, Michael Re, Sam Robotham
Emergency
Greg Tindale, Joe Uchno
Fangirl
Bethany Coan, Jason Re, Samantha Watson, Slli'm Williams
Fran from Accounts Payable
Irene Irazabal, Jake Moss, Beth Rosen, Michael Shvarts
Friends & Strangers
Tasha Bylenok, Chris Collins, Katie Krieger, Kelly Shannon
GET BIZZY
Bizzy Fain
Good
Abby Haverty, Dan Hofman, Charlie Waring
Grassy Knowles
Mikey Blunschi, David Brescia-Weiler, Jesse Chimes
Homestyle
Adam Joel, Hilary Joel
Hot For Kreacher
Elizabeth Fulton, Isabel Galbraith, Molly Graham, Jordana Mishory
How Dare You!?!
Tom Lam, Nico MacDougall, Chris Olinger, Steve Raetzman 
Hurry Up and Wait
Joelle Boxer, Alexander McCall, Andrew Serio
Inside Your Head
Jacob Boggs, Kevin Keefe, Dawn Perlas, JJ Walter
JAMM
Mitchell Alexander, Jeffrey Fleming, Margarida Rodrigues, Apple Wei
Joint Custody
Rachel Bracken, Saad Chaudhry, Colette Luke, Christopher Meier
Last Minute Deal
David Byrd, Anuj Christian, Nina Hsu, Tandra Turner
Laurie Metcalf
Bam Alston, Dana Heiser, Elizabeth Mulkey, Eli Okun
Living Poets Society
Eric Asker, Dwayne Baraka, Sofia Javed, Andrea Mosee 
Metro Carpet
Mark Abman, Natalie Knazik, Heidi Obermeyer, Steph Wilson
Mid by Midwest
Elise Buckley, Conor Halloran, Shea Minter, Lisa Schreihart
Midnight Television
Niv Elis, Bill Nelson, Kacie Peterson, Ashley Siebels
Mistakes Were Made
Lura Barber, Mikail Faalasli, Jeff Friedman, Christopher Ulrich
Mister Sister
Michael Cohen, Grayson Howe, Caroline Kelly, Megan Smith
Neighbors, maybe
Jason Adam, Brad Austin, Robert Cardoni, Sharon Pieczenik
Neon Salami
Javi Calderon, Laura DeMaria, Jason Fliegel, Beth Ruedi
Nora Nora James James
Nora Dell, Jim Faulkner, Nora Lemtouni, Jamie Linder
Party Town
Neil Baron, Justine Hipsky, Paul Hitlin, Matt Winterhalter
Pet Names
Ryan Brookshire, Oona Macdougall, Liz Sanders, Vic Whitten 
Pizza Wine
Felicia Barnes, Tucker Kibbey, Justin Lamb, Ryan McClure
Preschool Valedictorians
Melissa Duffy, Yotam Gingold, Arhan Gunel
Prius Boi's
Palmer Feibelman, Aaron Mayor, Marco Mendoza, Mitch Phillips
Reunion Special
Tess Higgins, Brady Peters, Ray Simeon, Matt Strote
Sagiquarius
Jeff Bollen, Craig Gagel, Bethany Stokes, Jeff Waggett
Sarah's Tomahawk Parkour
Sarah Armstrong, Courtney Chinn, Sarah Cottrill, Tomi Komolafe
Scrambled
Sol Aziz, Will Kao, Brad Ludlow, Matthew Pacino
Serenity Now!
Carlic Huynh, Joe Iannuzzi, Jonathan Murphy, David Richman
Sketchy Polls
Daniel Barrera, Talia Bernhard, Tamar Gasko, Carly Kraybill
Snark Week
Kelsie Anderson, Stacey Axler, Amanda Magnavita, Reem Seliem
Squishy
Shawn Fisher, Shawn Logue, Jermaine Trice
Step Sisters
Tara Demmy, Olivia Martinez, Donna Steele, Kenny Park Yi
Summer Camp
Richie Khanh, Kara Kinsey, Brianna Lux, Nic Small
Super Duper Dance Troupe
Robin Doody, Omar Parbhoo, Sam Schifrin, Mona Thompson
Surprise!
Katie Munn, Shawn Peabody, Lori Pitts, Karyn Wilson
Swimming to the Moon
Russell Gilardi, Shannon Madden, Anadelia Rodriguez, Bernard Turner  
Swole Baby
Dan Brown, Christina Ferrari, Gloria Funes, Steve Pilloff
The Basset Hounds
Jack Barnes, Sara Keller, Carrie McCarthy, John Sener
The Brother Husbands
Rachel Lang, Aubrey Peterson, Alex Waddell, Simone Webster
The Butterfly Effect
Taylor Kniffin, Turner Meeks, Isabelle Solomon, Kristen Timko
The Callback Kids
Meredith Burns, Aviva Loeb, Jillian Misner
The Experience
Ryan Alloway, Elizabeth Leff, Colleen Shaffer, Martin Steger
The Go-Karts
Gina Cordero, Alison Schiebelhut, Kris Shenenberger 
The IMPORTANCE OF ONESIES
Michael Hendrix, Jason Walther, Elise Webb, John Windmueller
The Nordic Trakz
Joey Barber, Maddie Bustamante, Brian Callahan, Lanre Lagoke
The Pigeon
Justin Carty, Adam Levine, Shealy Molpus, Jessica Norman. 
The Saddest Ice Cream
Eric Biltonen, Bill Bocik, Ginny Emmer, Nina Unger
The Second Mice
Graceanna Enzinger, Meredith Garagiola, Rachel Kaplan, Rai Sen
The Skeptical Imps
Braden Boyd, Meghan Dorn, Abigale Sanft, Mikki Smith
The Stairmasters
Ben Douek, Austin Downs, Kara Morillo, Joey Scully
Tipped Chairs
Melanie Campbell, Sarah Herhold, Court McGrew, Clyde Thompson
Under Caffeinated Brain
Colin Lovett, Alissa Platz, Joshua Price, Damund Williams
Undercover Octopus
Brent Buxton, Nicky de Haay, David Schupak, Luke Slominski
Waterlosers
Marissa Chaffee, Matt Coit, Amanda Fulton, Max Makovetsky
We Are This
Grace Campion, Jeanna Kim, Colleen Ryan
Whole Melk
Tamara Dottin, Hibba Meraay, Todd Ogin, Robert Pines
Wisconsin Laugh Trip
Lilith Zarling
You Know Who
Amanda Hahn, Adrienne Picciotto
Ze Cappuccino City
Darnell Eaton, James Jelin, Eva Lewis, Kristina Martinez
Published:
February 10, 2020