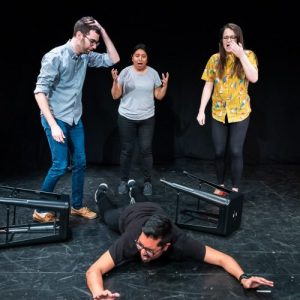 The Broken Bones, The Hypothesis, and Ugh join WIT's stable of Featured Ensembles
Harold Team Auditions to Take Place on March 12, 14, and 15
Who's Who: The teams of FIST 2020
WIT is proud to announce the addition of three teams to the Featured Ensemble program—a program intended to broaden WIT's family of improvisers and increase diversity in its roster of acts. The three new groups invited to become Featured Ensembles are The Hypothesis, The Broken Bones, and Ugh.
New Featured Ensembles
The Broken Bones
The Broken Bones turn your injury into comedy. They are the FIST 2019 champions.
Cast: Erick Acuna, Kelsey Peters, Kristina Martinez, Neil Baron
The Hypothesis
The Hypothesis combines science and improv to both inform and delight audiences. A show by The Hypothesis begins with the audience asking the performers a question (ex: How does memory work? Why is the sky blue? What happens in a black hole? Can you terraform Mars?), who then attempt to answer it. The team exclusively consists of scientists and science enthusiasts with diverse science backgrounds — ranging from neuroscience to ecology, from climatology to psychology, and everything in between.
Cast: Ben Taylor, Ceci De Robertis, Jordana Mishory, Margaret Lee, Nina Hsu, Tom Di Liberto
Ugh
Made up of gay improvisers from WIT ensembles past and present, the members of Ugh bring depth (and shallowness) to every scene. After talking with a lucky audience member, they create a never-seen-before, never-seen-again tale of, well, anything and everything we find funny.
Cast: Adam Kousari-Amin, Bryce Slinger, Darnell Eaton, Denny Johnson, Ryan Krull
The Featured Ensemble program is a way to:
give increased exposure to groups WIT recognizes as doing high quality work
give increased exposure to groups who center diverse voices that may be underrepresented on WIT's stage
delineate these groups from company ensembles, guest troupes, project shows, or directors series shows – and the restrictions thereof.
Featured Ensembles will be given priority scheduling consideration in WIT runs, increased presence on WIT's website, and may serve as headliners in their show blocks (depending on scheduling factors). Other potential benefits may include artistic feedback from WIT's Artistic Director or other designated players, rehearsal space, and festival support.
Featured Ensemble relationships may last for some time between six to 12 months. At that time, both parties will revisit the arrangement, make possible adjustments, renew or let it lapse. Featured Ensembles have autonomy over creative direction, casting, rehearsal schedules, and coaching.
Our first three Featured Ensembles—LIZARD GIRL, Poetic Resistance, and Lena Dunham—are continuing in the program. More Featured Ensembles will be onboarded in the future.