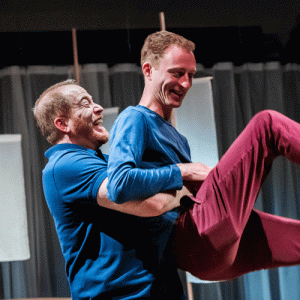 Four ways to Support WIT on Small Business Saturday
Put fun first on the agenda: Let WIT bring excitement to your holiday party
NEW WEB SERIES: This Zoom Life examines friendship in quarantine
As the giving season kicks into full gear, you can help support WIT while you spread the joy of the holiday season. Here are some ways you can check some folks off your gift-giving list while showing some love with your local improv theater.
1. Make a donation to WIT
Heh. That was pretty straightforward. Here's the link. You can also ask your loved ones to donate to WIT in lieu of a gift.
2. Gift someone you love with a Level One class
A Foundations of Improv class is a way to connect with others and have some get-out-of-your-head fun. Give the class as a gift to a loved one who could use some laughter and stress relief. We have classes beginning on Dec. 2 and Dec. 7 and gift cards are available.
3. Shop WIT swag including tees, hats, mugs, and totes
Check out WIT's online store and wear your WIT pride. We've got tees in a variety of colors and styles, tank tops, hoodies, mugs, baseball and knit caps as well as clothing for baby and toddler future improvisers. A portion of the proceeds from all sales comes back to us.
4. Sign up a work group for some fun: The Improv for Business Sampler
If you could use some more laughter at work, sign a group of colleagues up for our next Improv for Business Sampler—a fun and interactive 45-minute class that gives some of the basics about how you can apply improv to your work. Even better, contact WIT@Work John Windmueller at john@witdc.org to see what WIT can do for your company in a custom session or an interactive holiday party show.
Published:
November 28, 2020