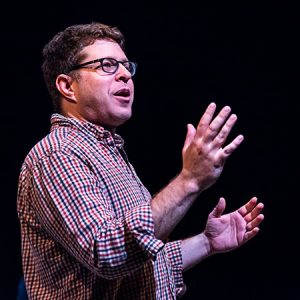 Put fun first on the agenda: Let WIT bring excitement to your holiday party
Mark Chalfant: Real talk about 2020 for WIT
Four ways to Support WIT on Small Business Saturday
From WIT@Work Director John Windmueller
"The problems with work from home (WFH) don't emerge because employees are no longer working in the same space. Its weaknesses arise when leaders fail to create new ways for employees to connect."- Joseph Grenny, Fast Company 
Informal conversations at work, those 'talks around the watercooler,' matter. Socializing builds connections and relationships, the social capital that fuels collaboration. The more we connect with one another, the more we matter to one another, the more we go the extra mile to have each other's backs.
In my applied improv workshops, I often observe that play has a wonderful return on investment, and the answer to "how to can we be more playful and joyful together" is also the answer to "how can we do more collaborative, creative, and effective work together." So how are you investing in the social capital of your team?
Speaking of play with purpose, it's that time of the year when we'd usually be gathering together for office parties and events, and WIT@Work has taken our usual holiday team improv workshops and performances online. Here's a one-page information sheet on WIT's holiday event options, and you can reach out to me directly (john@witdc.org), and I'd be happy to help you plan your holiday fun (and investment in social capital).