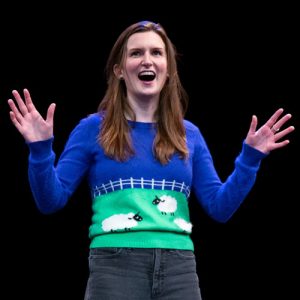 Melissa Gedney
Washington Improv Theater
Sarah Houghton
Adam Levine
Melissa Gedney hails from Long Island, NY and is thrilled you can't tell by her accent.
Comedy cults she has belonged to include WIT's Harold team Tiovivo and WIT special project (y)Our Town, indie group Stovetron, and Dojo Comedy's sketch team Frankie. She has performed on stages at the Del Close Marathon, NYC Sketchfest, The World Channel's Stories from the Stage, Massmouth, and The Moth. She completed WIT's improv curriculum in 2015, and has also studied at Dojo Comedy and Story District.
Melissa's other favorite hobby is encouraging people to drink more water. By day, she works in children's media.
Photo by Mikail Faalasli
Favorite snack
Popcorn with hot sauce
Hidden talent
Sleeping on public transportation (anytime, anywhere, for however long)