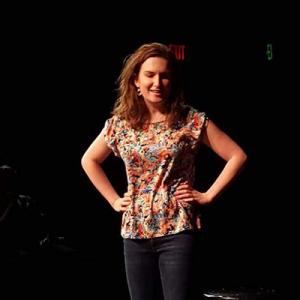 Melissa Gedney
Washington Improv Theater
Sarah Houghton
Adam Levine
Melissa Gedney hails from Long Island, NY and is thrilled you can't tell from her accent.
She started improv classes after graduating college to distract her from the crippling uncertainty of adulthood and it's working. Kind of.
Melissa completed the WIT curriculum in summer 2015, and has also studied at Dojo Comedy and Story District. She performs around town with the indie supergroup Stovëtron and fierce lady trio That's What He Said. She writes and performs on Dojo's sketch comedy team Frankie.
When not improvising, Melissa works in education, and likes hiking, playing music, and staying up too late reading blog posts about how to get more sleep.
Photo by Jeff Salmore
Favorite snack
Popcorn with hot sauce
Hidden talent
Sleeping on public transportation (anytime, anywhere, for however long)