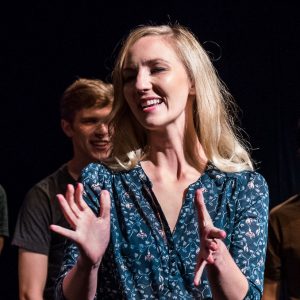 Sarah Houghton
Washington Improv Theater
Patrick Murray
Melissa Gedney
After many years of wingin' it in comedy, Sarah enrolled in the WIT curriculum in 2015. Her scene partners have been thanking her ever since.
Sarah started out in improv and sketch with the York College Players, Daegu Theatre Troupe (Korea), and Szkola Impro (Poland). She has workshopped with many of her improv heroes from UCB-NY and iO Chicago, and performed in the Finland International Improv Festival, WIT's Fighting Improv Smackdown Tournament, and Improvapalooza. In addition to Harold night, you can catch her out on the indie scene with lady-duo Dream Spooners.
Although her improv experience is rooted in foreign lands, Sarah is really just a small-town girl from New Jersey who likes to drive around DC blasting monster ballads to the beat of her heart. She is also a teacher, designer, and proud cat-mom of two twenty-pound ragdolls.
Hidden talent
360° lateral arm rotations
Favorite pastime
Singing with a half-second delay so it feels like I knew the words all along.