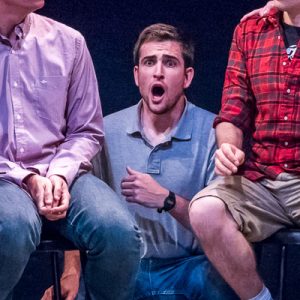 Bryce Slinger
Washington Improv Theater
David Lapkoff
Harry Kacak
Bryce Slinger has lived in a lot of places. Really though, he's from Raleigh, N.C. with an accent firmly rooted in the Midwest. He began improvising his freshman year at Macalester College when his dorm neighbor took him to audition for a long-form troupe.
Bryce is a graduate of WIT's training program. He played with Fresh Concepts, a Harold team, during four years at a small, Midwestern liberal arts college. Fresh Concepts participated in a multi-day Harold workshop at Improv Olympic in Chicago every year. (Note: "Fresh Concepts" is a reference to a neon cafeteria condiments sign, not because the group thought they had a lot of great ideas.)
Bryce is a proud bureaucrat and analyst at the U.S. Department of Defense where he designs and measures strategic initiatives and programs that strengthen the Military Health System and increase the well-being of America's uniformed men and women. Prior to living the civil service dream, Bryce served as a community health volunteer with the U.S. Peace Corps in rural Uganda. Bryce has an uncanny ability to identify commercial jets by the wing tip or interior layout. He is also very into cars. And trains. Really anything with an engine.
Personal Motto
When in doubt, take a nap.