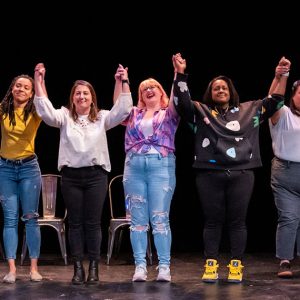 WIT's all-woman ensemble Hellcat is holding auditions
WIT ensemble Uncle Gorgeous announces January audition dates
Game on! Register your team for FIST 2024
Hellcat is excited to announce that auditions will be taking place on December 9th and 10th!
Hellcat is a WIT company ensemble. Our shows are a playful exploration of the truths and insights of the human experience, as well as profound questions like, "What if we were dealing with the complexity of heartbreak, and also we were anthropomorphized dust bunnies on a journey through a mystical laundry kingdom?" We are currently trying to make the nickname 'The Bad Girls of Improv' stick.
If you enjoy the juxtaposition of heartfelt and absurd, Hellcat is opening auditions to women who have at least one year of improv performance experience. Completion of the WIT curriculum or equivalent training is a huge plus. Solid emotional commitment, fearlessness, specificity, and a focus on fun will be essential. Hellcat strongly encourages women of all backgrounds, ages, voices, and experiences to audition.
Auditions will be held on Saturday, December 9 and Sunday, December 10 at Studio Theatre, 1501 14th St NW, Washington, DC 20005. The deadline to sign up is 11:59 PM ET on Friday, December 1.
Auditions are open to all women with at least one year of experience in improv training or performance. Completion of the WIT curriculum or equivalent is a plus.
Casting is contingent on auditioners being available for rehearsals twice a month on Wednesdays from 7 – 9 PM at a location near Columbia Heights or downtown Washington, DC.
Published:
November 9, 2023