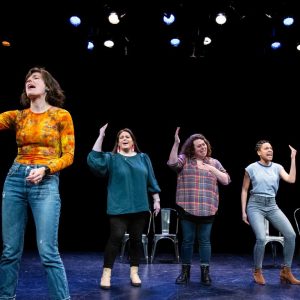 Game on! Register your team for FIST 2024
WIT's all-woman ensemble Hellcat is holding auditions
WIT awarded grant from DC Mayor's Office of LGBTQ Affairs for second year in-a-row
WIT's epic tournament is gearing up once again! Sign-ups for FIST 2024 are now live. The deadline for submissions will be Thursday, Nov. 30 at 11:59 PM!
The Fighting Improv Smackdown Tournament (FIST) will run Jan. 26, 2024 through Feb. 25, 2024. For the uninitiated, FIST is a bracketed tournament in which teams of improvisers fight their way up the brackets toward championship glory—like college basketball's March Madness, but with MORE MADNESS. Teams advance or are eliminated based on anonymous audience voting. One team will become the FIST Champions, emerging to cheers, validation, and, of course, glory. Get all the info you need and more in the FIST FAQ.
Want to compete but don't have a team? Or want to play with new people? WIT is once again playing matchmaker. Sign up to be on a team, and WIT will help you assemble a team and connect you with other players based on your level of experience and any other preferences you identify. From there it is on you to coordinate your submission. 
The matchmaker form can be found HERE. The matchmaker sign-up form will be due at noon Monday, Nov. 27, with enough time to enable players to plan prior to the submission deadline.
Published:
November 7, 2023