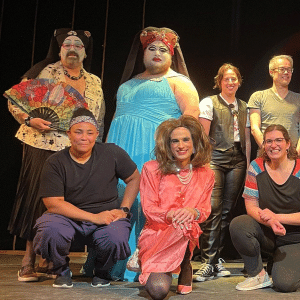 WIT awarded grant from DC Mayor's Office of LGBTQ Affairs for second year in-a-row
Game on! Register your team for FIST 2024
Hey Congress! Let the lessons of improv help you get to yes (and)!
For the second year in a row, the DC Mayor's Office of LGBTQ Affairs has awarded Washington Improv Theater a community development grant. WIT was one of 29 nonprofits in DC to receive an award in FY2024.
WIT's $15,000 grant will support:
WIT's series of

free Improv for All workshops for the LGBTQ+ community.

These are held throughout the year at Studio Theatre and are led by LGBTQ+ teaching artists. They are open to LGBTQ+ participants as well as allies. The first workshop, scheduled for October 21, is now

registering participants

.

artistic programming that highlights talent from the DC region's LGBTQ+ community. This includes WIT's recurring variety show Queer Variety Cavalcade (QVC). Produced and hosted by WIT improvisers, Kevin Eggleston and Bill Nelson (dubbed "Birdie" and "Butchie"), the hour-long show features three performances by Queer artists from a variety of disciplines and an interview with a guest important to the Queer community.
On October 13, Queer Variety Cavalcade will include a conversation with Ava Benach — an immigration lawyer for the LGBTQ+ community and the Chair of DC Girls Baseball. The show will also feature Queer Story Time with storyteller, Adrian Villalobos.
"We are delighted to be able to continue designing performances and workshops that showcase DC's vibrant LGBTQ+ community," says WIT's Artistic and Executive Director, Mark Chalfant. "We're honored and grateful to once again be recognized by the District of Columbia as an organization that 'works tirelessly to advance DC values'."
WIT is one of 29 grantees by the Mayor's Office of LGBTQ Affairs in their cycle of awards for the 2024 fiscal year. The grants distributed by the Mayor's Office of LGBTQ Affairs are part of a larger grantmaking program by the Mayor's Office of Community Affairs, which recently awarded more than $2.2 million, across several offices, to 137 organizations. During the 2023 fiscal year, WIT was awarded $10,490 by the Mayor's Office of LGBTQ Affairs.
Photo features Sister Allie Lewya of the DC Chapter of Sisters of Perpetual Indulgence, improvisers Rae Lang and Katie O'Donnell, comedian Chelsea Shorte, and QVC host Kevin "Birdie" Eggleston.