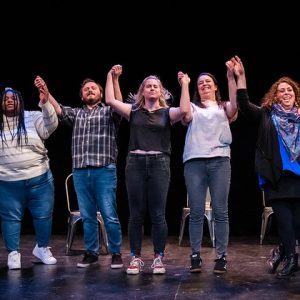 WIT ensemble Uncle Gorgeous announces January audition dates
WIT to pilot musical improv conservatory in 2024
WIT's all-woman ensemble Hellcat is holding auditions
WIT ensemble Uncle Gorgeous is holding auditions on Jan. 4, 6, and 7. The deadline to sign up for the try-outs is Monday, Dec. 18 by 5:00 PM.
Uncle Gorgeous is a team that cares about what connects people and strives to "intentionally create an environment where improvisers with a wide range of backgrounds, cultures, ethnicities, genders, sexual orientations, and abilities are free to express themselves creatively and authentically."
They thrive on finding a "group energy" that reflects their individual voices, identities, and backgrounds. They also enjoy organic and premise-based scene work, and tend to gravitate towards "large, silly group games."
The current cast is made up of Samiyyah Ali, Joey Breems, Tom Di Liberto, Madeline Dozier, Mikail Faalasli, Kristina Martinez, Jordana Mishory, and Kelsey Peters. The players, who perform weekly during WIT runs, aim to practice three Thursdays per month from 7:15 PM to 9:15 PM.
Uncle Gorgeous is looking for improvisers with at least one year of improv experience (classes, workshops, shows, etc) and who demonstrate the following:
An ability to bring their authentic selves to scenes, character choices, and character reactions.
An eagerness to join scenes and mirror scene partners with energy and agreement.
A willingness to share the fun as an ensemble member and collaboratively build scenes.
An ability to ground and articulate relationships and scenes clearly and quickly.
An ability to identify character points of view and scene dynamics, and to stick to one's choices.
An ability to create characters, and demonstrate emotional range and vulnerability.
A clear sense of silliness, joy, and play!
Please fill out the audition form here by Monday, Dec. 18 at 5:00 PM. Send any questions you might have to Kelsey Peters: kelseypeters12@gmail.com
Published:
November 9, 2023