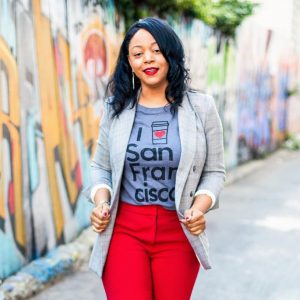 WIT Board Member/Fashionista Ehmonie Hainey: The dos and don'ts of improv fashion
WIT ensemble Nox! announces diversity-seeking auditions
Q&A: Double Date Discuss their Fist XII Win
Washington Improv Theater board member Ehmonie Hainey is not only a graduate of WIT's training program and a communications maven, she's also a notable fashionista. Hainey blogs about fashion dos and don'ts on her site What's Haute. Her Instagram account boasts more than 33,000 followers. 
We asked Ehmonie how she found improv as well as her fashion philosophies.
How did you initially get into improv? What teams do you play with now?
Comedy always has been a secret love of mine but I was such a shy kid, I never thought I'd pursue it. Fast forward to 2013, I was living in NYC. I mentioned to a friend that I was thinking about taking an improv class and, on a whim, I signed up for a free intro class at one of the theaters there. I quickly fell in love with the art form. It felt surprisingly undaunting for someone who was afraid of public speaking! When I moved to D.C., I discovered WIT and I've been involved with the theater and improv ever since! I'm currently a member of The Carmichaels—the funniest improv troupe, ever! Hey nerds!
Why did you choose to join the board of WIT? What do you find rewarding about your service on the board?
I chose to join the board at WIT because while enrolled in the classes program, I really fell in love with everything: the way the classes were structured and the content, the support of the teachers, and the camaraderie of the students and the overall WIT community. I wanted to apply my business background and skills to an organization I truly loved and felt passionate about. I currently am the chair of the Space Exploration committee, and it's truly rewarding to work side-by-side with Executive & Artistic Director, Mark Chalfant, as well as our awesome committee and board members, to help locate a new, permanent home for our theater. (Hey DC govt. officials/real estate professionals: if you know of a 7000 sq. ft., reasonably-priced available space that would be perfect for a nonprofit improv theater, please reach out to me!)
Tell us about What's Haute?  Have you always been interested in fashion and style?
Fashion is my first love (sorry, comedy!). Throughout my life, I've always been called a fashionista and I certainly always have been fashion-obsessed. When I was in middle school and high school, I used to pull ads and editorials out of Vogue and other magazines and plaster my bedroom walls with them for inspiration. I designed my prom dresses based on some of these editorials! Also, I worked in retail throughout high school and college so that gave me the opportunity to explore different styles and eras of fashion. (I had a TLC-inspired moment in high school and college that I'm particularly proud of. I was the 'Left Eye' of my crew. LOL)
I've always enjoyed creative writing and dressing up as a form of self-expression, so when blogging first came to be, I launched What's Haute. It was a great opportunity to combine my creative exploits, for fun. What's Haute actually started as a handbag blog. I had launched my own handbag line at the time and came across a bunch of other up-and-coming handbag designers that I loved as I was researching things for my own line. I started the blog to profile these other designers. Over the years, I spun the handbag blog off into a separate site, (the now-defunct Handbag du Jour), and made What's Haute a more comprehensive fashion and lifestyle destination.
It's gone through several iterations in the 12+ years I've been blogging, starting first as a hobby and later turning into a side business. But while the topics have changed a bit over the years, the central focus always remained primarily on fashion and style.
How would you describe your own personal style?
My personal style is eclectic – and a little bit extra! I don't like to be tied down to one particular fashion genre and sometimes I like to do the most. I can be fickle when it comes to my personal look, so I'll go through different fashion, beauty and hair moments, depending on my mood. You can find me wearing jeans and a T-shirt, a denim jacket and creepers one day, and in a maxi dress and heels the next. But no matter what I'm wearing, I have to put a little extra twist on it, particularly with statement accessories, crazy makeup or shoes, or other fun details.
What are the fashion "dos" and "don'ts" for improvisers?
Fashion is like improv in that it works best if you don't think too hard about it! Just go with the flow. The more effortless, the better!
Fashion do's for improvisers:
Comfort is key – if you're uncomfortable, it'll show in your performance.
Confidence always is the best thing you can wear – in improv and in life.
Fashion don'ts for improvisers:
"Yes, and" works great for improv scenes – not so much for overdressing/over-accessorizing. Don't "yes, and" yourself when getting dressed. Don't overdo it! Take advice from Coco Chanel, who famously said, "Before you leave the house, look in the mirror and take one thing off."
Improv is all about supporting your fellow improvisers and mimicking what they do; that doesn't necessarily apply to fashion. Unless of course you intentionally want to dress like your friends, which you shouldn't.
What's the next big fashion trend on the horizon?
I'm not big on following trends. Like improv, I'd suggest finding your own style and wear/do what works for you!
Want to take the leap into an improv class? Sign up today!