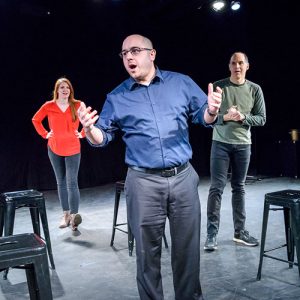 Q&A: Double Date Discuss their Fist XII Win
WIT Board Member/Fashionista Ehmonie Hainey: The dos and don'ts of improv fashion
WIT Special Project Hellcat announces auditions
After winning the Comeback Brawl, Double Date returned to the WIT stage hours later to clinch the 2018 Fighting Improv Smackdown Tournament trophy. Made up of Nina Hsu, Joe Randazzo, Chris Ulrich and Jane White, Double Date incorporated their chemistry as improvisers into their date-inspired format.
WIT sat down with Double Date to discuss their win.
Congratulations! Tell us about the moment your name was announced during the FIST finals.
Nina: I Taylor Swift-ed it. My jaw literally dropped (Bri Lux has a great picture of it). I couldn't believe it. I still can't!
Jane: I was floored that the audience shot out of their seats and were so loud. It was a very Sally Field "You really like us!" moment. I just felt so thankful.
Joe: I thought it was going to go to a different team, so when it happened I was in shock, but I remembered feeling really grateful and we brought the team out to thank the audience and then the other teams. Years back I told my sister that the FIST trophy was my Stanley Cup. So I was wondering why no one was kissing it and hoisting over their head. So I did. No one else did, so I looked insane, but who cares. Do I get to spend a day with the trophy like the Stanley Cup champions do? I have plans. Big plans.
Chris: I thought the same thing Joe did. I was blown away by our win  We spent a lot of time together over the last several weeks and we were all invested big time. I think we were equally surprised and pumped about the win in the comeback round.  What a change of emotion from 12 hours earlier. It was the best feeling to hear our name called. I loved our final show. It was the most in the moment of any of our shows. And like Jane said, it was super cool to see the audience so fired up and going crazy.  Bri Lux caught the moment. I have gone back several times to watch to see the surprise and joy on our faces at the moment. Happy surprise and joy. It makes me smile every time.
What's your origin story? How did you guys get together?
Nina: I'm a huge fan of Jive Turkey (Chris and Joe's duo), and I had gotten to know Joe through Citizen's Watch. So when Joe asked me to join, I jumped at the chance. They have such good chemistry and it's been so delightful playing with them – and getting to know them as humans! I hadn't played with Jane before, so I creepily stalked her through Nick Martinez (her teammate on Bottom Shelf and my teammate on Reina). The girl won city-wides at District Karaoke recently and is now a FIST champion, so clearly she's taking the world by storm.
Jane: Joe and I have been dating for eight months, and Chris and Nina have been married for seven years… 😉
Joe: Chris and I have been doing Jive Turkey for about nine or 10 years now, and since 2009 Chris and I have been doing the tournament together. We have had some amazing players play with us and some great times, but never made it past the Sweet 16. This year, with the four person format, we wanted to do something different and have a gender balanced team. I knew Jane from when I coached her team Bottom Shelf and Nina and I worked on Citizen's Watch together, so I knew how talented they were. Chris was an easy sell with those two.
Chris: I had met Jane after a Jive Turkey show and thought it be great to play with her and Joe had mentioned he had coached her team Bottom Shelf. It was a no-brainer. I didn't know Nina's style and at first rehearsal came to learn of how funny and smart she plays. And as we messed with the format, we found a groove with it really quickly. Joe suggested the original format and through messing with it the four of us found its flow.
Tell me more about your format. How did it come about and how did it evolve over the course of rehearsals and the competition?
Nina: It was Joe's idea: a modified pretty flower, with two couples – one with a longer history and one new-ish couple. We had maybe two rehearsals before our first round show, where we played around with the couple dynamics, the pop-outs/walk-ons from the date location, and the multi-casting element. At first, we kept it open as to who would be paired up with whom, but after the first few shows, we noticed a tight dynamic when Chris and I paired up, and when Jane and Joe paired up, so we decided mid-way through to keep those pairings throughout the competition.
Jane: We wanted something high-energy that allowed for really discovering our base scene characters while still allowing for bursts of creativity. The pop-outs, third person entrances and multicasting just kind of flowed out of unrestricted play.
Joe: Yup. We tried to merge the Jive Turkey penchant for multi-casting and making fun of each other into the pretty flower and the women just took it over and excelled in it.
Chris: One other note, we had not been jumping characters much in rehearsal and we found that through a great move Nina made in the first show to jump over and play Joe's character opened  a big door for us and we used it a lot moving forward for the rest of the shows.
You're the first team to be brought back to the finals via the Comeback Brawl. What was your mindset after being eliminated in the semi-finals?
Nina: Honestly, the further we got, the more I was trying (and failing) not to put pressure on myself. Being eliminated was a bit of a relief. It took all the pressure off! We'd developed these strict pre-show rituals of going to Taqueria and getting the same food orders before the show, and Joe always wore the same shirt to each show. Once we were eliminated, we switched it up and went to Matchbox. And Joe even wore a different shirt!
Jane: Getting dumped sucks, but sometimes you get makeup sex. (Can we publish that?…) Going into the comeback brawl, I was just thankful to get to play with Joe and Nina and Chris again and didn't put too many expectations on it. And going into finals, I felt like I also had nothing to lose because we already had! So I think that joy just to be there came through and resonated with the audience.
Joe: I was really annoyed at my own personal level of play that night and was frustrated. However, we all went out with some other teams and players to the Taqueria and closed the place down. That was really what we needed as a group. A fun night to reset.
The next morning I sent this text to the group:
"You know what? I'm feeling good about this. We already lost and the comeback bracket is stacked, so really there's no more pressure to win. Let's just go out there and have a balls out crazy fun and relaxed show."
Once that pressure was off, it was much easier. Relaxation is the key to doing good Improv. We just wanted to put on some good funny shows. We were shocked to get to the finals and shocked to win it all.
Chris: I was bummed the night we lost. I had a student of mine send me a note the next morning. An ex-marine, who has caught the improv bug sent me this thoughtful message after we lost and was a great note to get from him. I shared it with everybody at brunch and folks appreciated it.  That along with Joe's note and everybody else feeling more relaxed and freed by expectation adopted a more lets enjoy this moment approach. I loved our energy going into Sunday. We were much more relaxed It was part of our theme to let go, enjoy the fact we got another show and see what happens. We were pumped to get another shot.
What was your favorite moment during your run—on-stage or off-stage?
Nina: Too many! In our quarterfinal match, the date location was Hooters. We'd established a game of waitstaff ignoring Joe, who would then complain about it. I imagined there'd be a third instance of that to anchor the game, but I never dreamed Chris would come on as a hunchback Hooters waitress with eyes only for Joe. It was so delightful.
Also, in our final match (at a Chuck E. Cheese), we'd established that Joe's character had trouble getting erections. We'd multi-casted the characters so that Joe was playing me, and Chris was playing Joe. Joe (as Nina) started singing the Lion King opening music, and Chris (as Joe) looked down at his crotch and screamed excitedly, "It's working!" I broke immediately and couldn't recover for awhile.
Is it a coincidence that both of these are about poking fun at Joe?
Jane: Too many indeed – but holding our breath for the entire last week not knowing if Baby Randazzo would make an early third person entrance was just so exciting! I still think Nina, Chris & I would've made a cute thrupple.
Joe: That was less fun for me. There were a few moments on-stage where we accidentally stumbled onto gold and were able to capitalize on it, which I loved, but really the before show rituals and after show rap sessions were my favorite. I also loved coming off of the stage, with the team being out of breath and joyous knowing we hit it hard.
Also, Chris screaming at his penis.
Chris: Everyone of those mentioned above.
Do you have any advice for future FIST hopefuls?
Nina: The improv community here is incredible. One of my favorite FIST moments was hanging upstairs at Source before the Comeback Brawl with the other teams. Everyone was high-fiving and laughing. That supportive spirit can be lost in the context of a competition, but trying to remember to have a blast for as long as you can, with people who make you laugh and have your back, is what FIST is all about!
Jane: Go big! Double Date was newly formed, so we came out swinging with some trust falls pretty early on, and they paid off big. Every time someone jumped they were caught, so by the time we reached finals the sky was the limit. So my advice would be to find people who stretch you and give them all you've got.
Joe: Find an excellent partner, struggle for ten years, then win. Easy.
Chris: What Joe said. And find folks who make you better. We got lucky to get Nina and Jane to play with us.  I loved it and am stoked to keep playing with these folks.
Describe your FIST experience in three words.
Nina: Surreal, exhausting, exhilarating.
Jane: Best date ever!
Joe: Stress, resilience, validation.
Chris: Nina, Jane, Joe.
This one's just for Joe. Joe, your wife had a baby the day after you won! How was that final weekend as the day drew closer.
Joe: I wouldn't recommend it. It's a high stress game, not knowing if you will make the next show or if you have to miss the birth. My wife was amazing about it though. I told her she couldn't have the baby until we were done with FIST and she supported us the whole way down the line. New baby George deserves some credit too…"Way to hang in there kid!"
It did take some of the pressure of winning off, people would tell me "they were nervous" and in my head I was thinking, "my wife is having contractions, this is the easy part of my day."
One last part that particularly bad was getting food poisoning and doing those final shows sick in the middle of all this. That was less than ideal. Don't do that.
Chris: Had to chime in. I was proud of how Joe was keeping it together between food poisoning and contractions …especially how on the Thursday Joe told us how Jess was having contractions…I am now an expert on sporadic contractions in case anybody has questions  Huge kudos to Jess for being supportive and to George Arthur Randazzo for chilling til Monday.