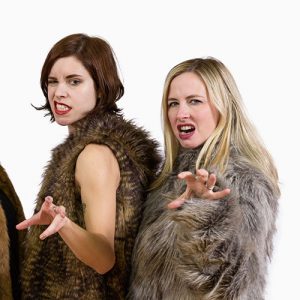 WIT Special Project Hellcat announces auditions
Q&A: Double Date Discuss their Fist XII Win
WIT's Board of Directors Seeks New Members
Hellcat is thrilled to announce auditions on Thursday, April 12 and Saturday, April 14.
Hellcat is an all-female identifying group. Our shows are based on a presenter's story or source material (such as journal, AIM conversation, poem or play) from which we build a high-energy montage. Hellcat is a WIT special project and a continuation of the project show The October Issue, which originally ran as part of the Women's Voices Theater Festival. Between The October Issue and Hellcat, four of the team's performers have been WIT Fighting Improv Smackdown Tournament winners!
Hellcat seeks female-identifying players who have at least two years of improv performance experience. Completion of WIT curriculum or equivalent training is a plus. Solid emotional believability, group chemistry and sincerity will be essential. Players of color are encouraged to audition. Jordana Mishory (Love Onion) directs the group. Deadline to sign up is 11:59 PM ET on Tuesday, March 27th. 
Hellcat currently practices twice a month but will be considering weekly practices, especially once new members are brought onto the team. The team performs during WIT runs typically 3-5 times, often on Thursday nights but sometimes other weekend days. Hellcat also explores other exciting performance opportunities. Should you have any questions about the team/eligibility, please email Jenna Hall (jennahall27@gmail.com).