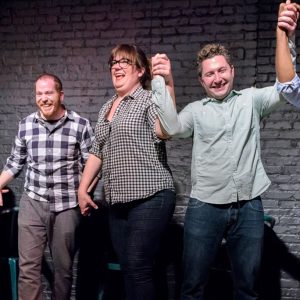 WIT ensemble Nox! announces diversity-seeking auditions
Hellcat becomes WIT's newest company ensemble
WIT Board Member/Fashionista Ehmonie Hainey: The dos and don'ts of improv fashion
WIT ensemble Nox! will hold auditions on April 29. The team seeks to add members who are gender minorities, LGBTQ+ individuals, women, and/or people of color.
Auditioners should:
Self-identify as one or more of the gender/race categories listed above.
Possess a minimum of 3 years professional performance experience OR completed formal training in performance/theatre/improv.
Have the availability to rehearse weekly on Tuesday evenings from 7:00pm-9:30pm
SIGN-UP DEADLINE: Sunday, April 15, 11:59 PM.
AUDITION: Sunday, April 29, 2018 at WeWork (655 15th St NW Washington DC 20005). Audition room/directions will be provided via email closer to auditions.
Finalized audition schedule will be emailed to all eligible individuals no later than Sunday April 22nd at 11:59 PM.
Nox! bio: If you were patient enough to pay attention in Latin class, then you know that "nox" means "night." Nox! started with the idea of focusing solely on performing a style called the Bat, which is an audio-only format done in complete darkness.
After exploring the dark, Nox!'s thirst for innovation and the D.C. fire code brought them back into the light. Creating new and intriguing forms has become their specialty, and they aim to be the most dynamic and versatile long-form improv troupe in DC. Nox!'s play is fueled by the mantra "get weird," resulting in comedy that is often dark, physical, and high energy, yet patient.