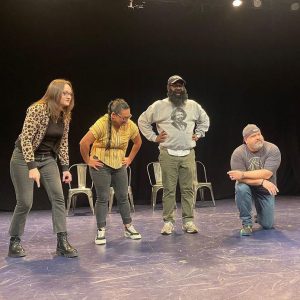 All-veteran improv team Smoking and Joking competed, advanced in FIST 2023
Moonstruck 2: The FIST Championship Interview
Meet WIT's board: MV Banks
Washington Improv Theater is a longtime partner with the Armed Services Arts Partnership, an organization that provides artistic outlets to the American veteran community. WIT's classes are a popular option (and are registering now!) and many ASAP students continue on past Level 1.
In the 2023 FIST tournament, the team Smoking and Joking advanced to Round 2 of the tournament. The team was made up of veterans from ASAP as well as Clyde Thompson, a WIT faculty member and veteran who has taught classes for ASAP. WIT spoke Thompson and teammates Maria Batdorff, Joe Gagliardi, and Krys Palacios, about their experiences with improv and participating in FIST.
Tell me about your backgrounds. When did you serve in the armed forces and how did you get connected with ASAP?
Maria: I entered the Navy through Officer Candidate School in May 2008. I served as a Surface Warfare Officer on active duty, completing two sea tours onboard USS NEW YORK (LPD 21) and USS MONTEREY (CG 61) followed by a shore tour in Millington ,TN at Navy Recruiting Command. In 2016 I transitioned from active duty to the Navy reserves where I continue to serve, on weekends and two or three weeks a year. While transitioning from active duty I decided to move to the DC area for a job in 2016. When I arrived I began looking for ways to make friends in the area. I discovered ASAP through a Facebook post. I had previously thought about trying stand-up comedy but didn't know how to get started. I applied for and was accepted into the Spring 2017 Comedy Bootcamp and it was a fantastic experience. I really loved the teamwork aspect of the class and the grad show felt like an awesome culmination of all our work.
Clyde: I enlisted in the Navy at 17, two weeks after graduating high school in August of 2001 as an Electronic Warfare Specialist and eventually becoming a Cryptologist.  I deployed as part Operation: Enduring Freedom in 2002.  Back in 2017, I was at a coffee shop on Capitol Hill and saw a flyer for the Armed Services Arts Partnership (ASAP).  I was hesitant to sign up for a full class, so I signed up for a one day improv workshop and loved it.  A week later I realized I missed the sign up deadline, so I spent the next year going to grad shows until I was able to get a spot in their Comedy Bootcamp.  While I was waiting, I found out about WIT's grant with National Endowment for the Arts (NEA) for Ward 7 & 8 residents and began taking improv classes with WIT in 2018.
Krys: I was born and raised in Kansas City, Mo. I already had a motive to enlist at a young age. Then OIF kicked off and was where I felt I needed to be. I served 9 years (2004-2013) as an H-1 helicopter avionics technician with tours to Iraq, Gulf of Aden, and Afghanistan with shipboard operations on the USS Bonhomme-Richard and USS Boxer. I was forced out for injuries when the personnel drawdown came about. After switching career paths and attending film school in LA I had been involved with multiple veteran organizations. I moved to DC in 2018. When I worked for a different arts and entertainment non-profit organizations, my responsibilities were to network with other local organizations and facilitate access to the arts and gainful employment in the entertainment industry for military veterans. I would often bump into ASAP ambassadors at veteran functions. I was so impressed with ASAP's mission and success. Their programs have visible results. Every ASAP member I worked with was a gem.
Joe: I was commissioned as a 2nd Lieutenant of Marines in September of 2003 and served on Active Duty until 2008 when, after 2 deployments to the Iraq War, I transitioned into the reserves for the remaining 4.5 years of my contract. I found ASAP through a vet friend when I was just starting out in the performing arts back in 2017.
What drew you to improv? What was it like taking your first class?
Clyde: I had a friend that wanted to record skits for YouTube, we quickly realized we both were terrible actors.  I googled how to be a better actor and kept seeing articles about doing improv or stand-up to get better at acting and memorizing lines.  This was literally a month before seeing a flyer for WIT classes, so it felt like fate.  My first class was nerve-wracking. I am always nervous when meeting new people, but Dave Johnson was the teacher and just had this real chill presence about him and I remember thinking, "this is about to be the weirdest thing I've ever done"…and then I proceeded to have the funnest 8 weeks ever.  I was absolutely hooked.
Maria: After completing ASAP's Comedy Bootcamp and becoming a mentor for the next Comedy Bootcamp I decided I wanted to expand my comedy skill set. I thought improv would be a great way to learn how to think on my feet more, so I applied for ASAP's Operation Improv (at the time it was only short-form improv) and attended in Fall 2017. My first class was one of the funnest experiences of my life. It really felt like playing pretend as a kid. It felt like a very accepting environment where mistakes were just part of the fun. I wasn't able to take another improv class until a few years later because I wound up doing a yearlong Navy deployment from 2018-2019, but I spent the deployment looking for other people who knew improv (unsuccessfully). I decided that when I got back from deployment I was going to learn improv well enough that next time I deploy I'll be able to teach it to my shipmates. Of course we went into a pandemic when I got back, so it wasn't until August 2021 when I started classes with WIT to learn longform improv, and I haven't stopped.
Krys: I have loosely utilized improv in other performances. It's a great tool and skill for a professional entertainer. During the COVID shutdowns, entertainment froze and made it difficult to exercise performance skills. I didn't quarantine during COVID. Instead I took on 3 different essential retail service jobs and burned out. The burn out and slow start of entertainment jobs left me just as isolated and foggy. I was genuinely worried about my mental state when jobs do start opening up. Am I gonna be able to perform? I was so terrified of finally getting a gig and then getting fired from a production because I can't remember my lines. I didn't feel like me anymore. Improv is such a great exercise for the mind. It wakes up the goofball in me. Getting together with a group of fellow goofballs was the best thing I could've done for my confidence. 
Joe: I found improv through my brilliant psychologist, Dr. Alicia Todd, because I was absolutely dying in the corporate world and it was negatively affecting my marriage, and my soul. I was making $130,000 and yet had never been so unhappy because of the workload, toxic people and environment, and when I began spiraling downward in my mental health, Dr Todd asked me what I remembered enjoying between the ages of 4 and 7. Turns out, I was always trying to entertain people and make them laugh so Dr Todd told me, and this is a direct quote, "don't come back here until you've signed up for an improv class". The rest is history!
Whose idea was it to enter FIST? Tell us about the experience of competing.
Clyde: This was my idea.  Last year, I was honored to make it to the FIST finals with Baggage Claim, an all black improv troupe.  During the run, I kept having black students coming up to me telling me how great it was to see an all black team on the stage.  I started thinking about how I never know if there are other Veterans in the scene and this is something that really can be such a stress relief for us.  I know Joe and Maria through ASAP standup, but Joe always mentioned his love for improv, then I happened to see Maria at an Improv Brunch show.  Krys was a student in the most recent ASAP Level One class and I just thought she had so much talent, so when I started thinking about who could balance out the team well, she immediately came to mind.  Competing in FIST is such a fun experience and I really hope every improviser gets an opportunity to experience it.  We just had so much fun together, both backstage and on stage.
Maria: I had met Clyde through ASAP events, and I had also seen him at some improv shows in recent months, so when he reached out to try to form an all Veteran FIST team I was immediately onboard. I competed in FIST last year as well, with a group I knew from my WIT classes, but we didn't advance past round one. I loved the sort of high-speed tempo of FIST. It was enjoyable to come out on stage going right into high energy scenes. I also love the energy and chemistry between my Smoking and Joking teammates. I felt like we were all helping each other and supporting each other. 
Krys: It was such unexpected timing. I had already completed the Level 1 with Clyde and had a few gigs here and there. I was no kidding pondering what to do next, I needed an activity to keep the creative juices flowing and up pops an email from Clyde needing a spot filled. The Universe threw Clyde my way, again. I had never met Joe or Maria. I knew Clyde, but we hadn't actually performed together. I was more worried about disappointing the team than whatever the audience was doing. I had an absolute blast performing. We warmed up to each other quick and I just couldn't help but be in awe of my awesome teammates. It made it difficult to come up with material to add cause I was holding in my laughs so hard on the sideline.
Joe: I had the best time competing in FIST, its my second time doing it with a troupe of all Vets as I competed back in 2018, but my team did not advance beyond the first round. Just so much fun, truly.
How has improv been valuable to you personally?
Clyde:  I am extremely busy and would probably burn out from stress if I didn't have improv to just let loose and be silly.  Also, in my personal life, I noticed right around Level 4, I started consistently getting complimented on my presentations at work and at school.  I feel like improv prepares you for any conversation you may find yourself in and I have noticed how much  less anxiety I have when I find myself in unfamiliar situations.
Maria: Improv has been a great way for me to make friends in the area, because I'm not from here (I grew up in Michigan) and my 2018-2019 Navy deployment, plus the pandemic had caused some difficulty with finding friends, and having people to hang out with. I've always enjoyed trying to make people laugh, and improv is a great outlet for that. Also, after years of military service, teamwork and collaboration are important to me and improv is all about both. I enjoy how much everyone shows up for each other in improv. Improv helped me with my transition back into civilian life after my deployment, it provided a place where I could find an accepting culture and just have fun.
Krys: I've always implemented improv in my life. It's literally the military lifestyle, dealing with wild situations as they happen. Just not always funny. I used to entertain my friends with improv and funny characters to make them laugh. I enjoy making people laugh and I feel like I can do that, again. I don't like being the cranky, moody, aggressive dragon-lady. I had to do it for so long during the war and it was crushing to myself and everyone around me. Improv gives a creative freedom.
Joe: Ask my family! Ha! I cannot overstate how much improv has not just made my life happier and hopeful, but led me to so many things I NEVER would've imagined I'd do. It led me to branch out into stand-up comedy, which I've been doing professionally now for several years all over the DMV, and because of all the wonderful creative energy improv produces in me, during the pandemic I began doing spray paint art which has now become my own small business and full time job!
What would you say to a veteran — or anyone — who is thinking about taking an improv class?
Clyde: You owe it to yourself to try.  Organizations like ASAP and WIT make it very accessible so there is literally nothing to lose.  If you're bad at it, you get to have a lot of fun and if you're good at it…reach out to us about joining Smokin and Jokin Improv.
Maria: Do it! It's a great, accepting environment. I reiterate what Joe said, I have found so much camaraderie, and joy through improv. 
Krys: I'm so glad and appreciative for the experience and community ASAP provides. It's absolutely worth trying and learning different tools for communication and self-expression. That's what art is for, expressing the self when the words just aren't enough. Improv can take you out of your headspace and be present in the moment. It wakes you up and knocks off the cobwebs. 
Joe: Don't walk… run to sign up! It is the most freeing experience I've ever had, and that is not hyperbole. The camaraderie, joy and limitless fun that can be had is just waiting for you to step into the classroom and start zip, zap, zopping your way to a better life and a happier soul. It transformed my life in ways I quite literally never even dreamt about!
ASAP offers free classes for military veterans, spouses, caregivers, and supporters. Apply for the program here. Register for one of our regular classes on the Level 1 web page.
Published:
February 8, 2023