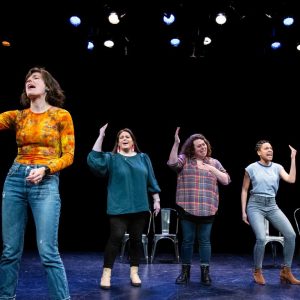 Moonstruck 2: The FIST Championship Interview
WIT is hiring: Marketing and Development Manager
All-veteran improv team Smoking and Joking competed, advanced in FIST 2023
FIST 2023 has drawn to a close and the last team standing was Moonstruck 2, made up of Jordana Mishory, Liz Sanders, Macey Schiff, and Simone Webster. WIT caught up with the team to discuss the milestone of an all-female winning FIST championship team, competing in the finals with one member out of town, and the moment their names were announced.
Congrats on your win! Tell me about the moment your names were announced.
Liz: I was tucked into bed at the Margaritaville resort in St. Thomas, USVI furiously checking my phone for missed calls with a Man v. Food episode (c. 2008) on in the background.
Simone: I do not remember this, but there is video of my arms wildly flailing about in excitement. I was definitely anxiously awaiting the final verdict and there was something very comforting in knowing that no matter who got called, the team really left it all on the floor. 
Jordana: Shock! Elation! A literal dream come true! The next thing I knew we were standing center stage holding that heavy trophy that sat above my desk for so many years, and I remember thinking, "What do we do now?!" (ha, and according to the same video Simone mentioned I actually said a version of that!). The answer of course was HUG ALL THE PEOPLE and then CALL LIZ…. and then sleep for two days straight.
Macey: It was totally wild! This is far from my first FIST and I had never made it to the finals before, so I was just thrilled to be there, and with these ladies that I love so much. We had an absolutely wild last show, so I knew that no matter what happened in the end, we were leaving the tournament having had an absolute blast. I also had no idea what to do after they said our name!! I awkwardly helped hold the trophy and then I just started hugging everyone around me, hahaha. How lucky to experience such a thing in a room full of people you love and admire! We were immediately like, "WE NEED TO CALL LIZ!" but due to a few group chats with teammates and friends, she knew we won before we even had the chance to call her.
How did you all form the team? Why the name Moonstruck 2?
Jordana: Macey and I had the first convo back in October, which I remember felt crazy early at the time, because we still thought FIST was gonna be in March. I generally plan for FIST early, but never THIS early. Macey and I had recently had several chances to improvise together for the first time in a while, and it was just so stinkin' fun and easy – and we wanted more chances to play together!! We wanted to form a team of badass hilarious ladies, and so we asked Liz, and then the three of us immediately brought in Simone. 
Liz: The name came from one of our first team conversations. Three out of four of us agreed that we wanted to avoid pun names at all cost. I may have suggested that we be "[insert movie] 2" because I think there is something funny about promising a sequel that you have no intention of performing. Simone and I both love "Moonstruck," so we pretty organically landed on the name "Moonstruck 2." For me, it was like a doubly awesome thing to get to perform with some of my favorite improvisers and be an evangelist for my favorite film. As the run went on, I kept thinking "if I just get to do one more show with these ladies and convince one more person to watch 'Moonstruck'… that is enough." 
Simone: I cannot think of a better movie to play around with for our team. As we were going through movies, Liz and I kept saying random quotes from the movie, and it just felt like the right fit. Shoutout to Nicolas Cage and Cher for making one of my top romantic comedies! 
Jordana: Not so shockingly my name suggestion of "Teenage Mutant Ninja Wordles" was dead on arrival. …That was the right call. 
Macey: I think Liz and I audibly groaned at "Teenage Mutant Ninja Wordles." But with LOVE! What's funny is, Jordana and I had never seen "Moonstruck" before FIST, but it felt magical enough to run with as a team name, and then we all watched the movie together and boy…is it something.
What was your favorite on-stage moment during the run?
Simone: For me, it would be our final show, crawling through a rabbit hole which became a fallopian tube which became sitting on a king sized bed NuvaRing, which became a nod to reproductive rights. There was something so fun about having a Magic School bus moment inside of Macey, specifically the physicality and staging of that scene. A second favorite was hate-mourning our dead husband who had secretly married all four of us. One of the funnest parts of Moonstruck 2 is how we all heighten together while being peas a pod, and this was a great example of this. 
Jordana: Ohmigoodness, CAN I SAY EVERYTHING?! We very intentionally did as many scenes as possible with all of us on stage pea-ing in the pod, and playing together was just such a magical gift. So all of those group scenes: the roomies reciting rhymes about what we loved and hated about ourselves, or the hate-mourning widows, or spin the bottle with the Closet Troll. It honestly was often a challenge to even get lines out because I was just breaking so hard throughout the whole run.
But really my favorite part was getting a front-row seat to my teammates' magnificent talent: Simone and her amazing physicality (the deer who wanted to teach me how to kiss! that Matrix backbend!); Liz and her incredible bold characters (I needed to collect myself off stage after she had a baby in the toilet because I was honest-to-goodness crying); and Macey, who grounded us throughout the run with such heart and emotional honesty and vulnerability. So yeah, TL; DR: my favorite on-stage moment was all of them. 
Liz: I loved all our group, peas-in-a-pod scenes. We got into the habit of doing one at the top of every show. Also, not an in-scene moment but one of my favorite moments happened in our first show. I will NEVER forget the first moment we walked on stage in round one and I saw Katie O'Donnell with a Moonstruck Nic Cage sign. My heart stopped for a moment. 
Macey: YES! So much love for all of these moments and for Katie O'Donnell with that Nic Cage sign. I really loved every single one of our shows together. I think, if I had to choose, one of my favorite scenes was one where Simone, Liz, and Jordana were all part of an honors sorority I was pledging, and they were hazing me by having me lie on the ground like a pancake and recite a literary analysis essay I had written. We also went down the line of the three of them and established what breakfast foods they were and why. It was just so silly, and flipped a few stereotypes on their heads, which I love doing.
For most of you, this is far from your first time competing. How does it feel to win after having participated many times in the past?
Macey: It still feels totally surreal! I've been lucky enough to be on some incredible FIST teams over the years with some amazing people, and Moonstruck 2 is no exception! The thing about FIST is that, at a certain point, you're up against and watching teams full of your friends and people you admire, so there's always something to be excited about, no matter the outcome. 
Simone: It feels like a dream! I'm waiting for Cher to yell "snap out of it!" to me, and luckily it hasn't happened yet. 
Liz: It feels awesome. Even more awesome knowing that we got here doing shows we're really proud of. In previous years, I never quite felt like myself during FIST (… despite having the support of incredible teammates and friends). Something about the competition made me feel stiff and less free on stage. This year felt different, easy. I kind of gave up on the competition part and just focused on trying to make my teammates laugh.
Jordana: Surreal, surreal, so so surreal! This was my 10th FIST, and in many ways this win comes on the shoulders of so many. I am lucky to have played with so many incredible people both on the FIST stage (Schtick, Schtick… BOOM!, Jos. A. Banksy, Trapper Keeper? I Hardly Know Her!, etc.), and off the FIST stage (Uncle Gorgeous, The Hypothesis, Love Onion, The Heist, Cake Bagel, etc.) who made me the performer I am today. 
Moreover, it felt so special to win with so many friends, teammates, and current and former students in the audience supporting us along the way – and alongside three of my bestest friends!! Not to get too heavy, but Liz, Simone, and Macey helped me get through many of the hardest parts of the pandemic. So getting to do this thing I love so much and being so silly with them – and winning(!!!) – felt extra sweet and extra special. 
For the second year in a row, the winning FIST team competed in the finals with one member absent! Liz, why did you need to miss? How did this impact the team going into the finals?
Liz: I booked a trip to the US Virgin Islands for vacation prior to the FIST schedule being announced. When I saw finals were the same weekend, I really wasn't worried at first since (as you so graciously pointed out, Dan) I have a long track record of not winning FIST (ed note: Who? Me?). Then, as we kept advancing and it became clear to me that this team had Finals Momentum, I was like "uh oh…" 
Simone: Liz is an incredible part of Moonstruck 2, so with her missing, I think it motivated us to be as present as possible and double down on what makes our team unique (high energy, heightening, characters, peas in a pod, etc.) in her absence. I feel anxious missing any teammate during FIST, so I tried to focus on having the best time possible, because that is what Liz would want us to do – she told us so via voice memo before the show! 
Jordana: I kept joking that I was going to derail Liz's trip for 24 hours. And then on the day of the finals Liz texted the group demanding to know if I sabotaged their resort reservation! I erroneously thought this bit was a precursor to Liz announcing that she was in town after all… but it was not a bit. (don't worry! Her vacay was still great!). We just wanted to make Liz proud and play with all the gusto and bold weird characters she brings to all of her scenes! And obviously that resulted in us pleasuring a computer's mainframe.  
Macey: I'd be lying if I said there wasn't a little sliver of me that had hoped that somehow…miraculously…Liz's plans would change and she'd be able to join us for the final show! Although I also wanted her to have a fabulous trip! Talk about conflicted! Liz is such a brilliant pillar and a powerhouse and her presence was deeply missed. She has this fantastic ability to embody so many different characters and energies and introduce so many fun and zany elements, and it's so uniquely Liz in the way that she does it, there's just no recreating that. With Liz, you know you can toss any kind of improv softball up for her, and she'll knock it out of the park.
Moonstruck 2's victory accomplishes a major achievement that many people have been waiting for for a long time: an all-female championship team. How do you feel about this milestone?
Macey: It really is such an honor to be a part of this achievement! I'm thrilled that I got to accomplish it with three women I love dearly. It's kind of wild to think about! We may be the first, but we're definitely not the last!
Simone: Ditto! It feels so great to be a part of this achievement especially with three ladies who I adore as people and improvisers. History was made with Ze Bestie Textie's win (Eva and Darnell are the first Black improvisers to win), so I'm glad we followed up with another milestone – and based on the rule of threes, I'm excited for the history the 2024 FIST team will make!
Jordana: There was a cool moment in the Final Four against the wonderful Small Mediums at Large when we all realized backstage that no matter who advanced there would be an all-female team going to the finals – definitely for the first time since I started doing FIST in 2012, and, I believe, for the first time ever! – and that felt pretty special! This community features so many badass women who inspire me every day (including of course my teammates!!), and I feel just fortunate to be a part of it. 
Liz: Yes there was an "Independent Women pt 1" sing along with Small Mediums at Large prior to the Final Four. It was pretty great. 
Any advice for future FIST competitors?
Jordana: Mmhmm, mmhmm, mmhmm. Use puns in all your "Please come to my FIST show!" emails, and whenever someone makes a positive prediction about your chances immediately yell at them to knock on wood – even if it means thumping on a passerby tree or that poor wooden frame in the Studio lobby! In all seriousness though, form a team with people whom you love to the ends of the earth and back, have more fun than you've ever had before in your life on stage, and just try to make your teammates giggle. 
Simone: Love is key! FIST is competition – true, but if you are planning to go on a journey with a group of people for what could be 5 weeks, be sure the love is there. Not only does it make the journey all the better, but it translates on stage. The audience knows when you are having a good time and when you're having fun – so partner up with people who let that shine through. 
Macey: Echoing what Jordana and Simone said, use FIST as an opportunity to perform with people that you love/admire/who make you laugh that you otherwise wouldn't really get to perform with! Also, listen to whatever your needs are as a team and execute from there. We had a (quiet) dance party before every show to amp up our energy and it was something that felt so special to us, even though it was also so, so silly. Also, highly recommend making a collaborative Spotify playlist that reminds you of your team and listening to it every time you get ready. Gets you in the vibe!! 
Jordana: YES! Moonstruck 2 owes much success to the song "Creepin'" by CID! That beat drop at the 0:46 mark is EVERYTHING!
Liz: Just find a group who makes you laugh and have as much fun as possible trying to make them laugh. I don't think puns and superstition have anything to do with it (sorry Jordana). BUT it has been scientifically proven that you are more likely to win FIST if you plan a trip out of town during the finals. 
Published:
February 24, 2023