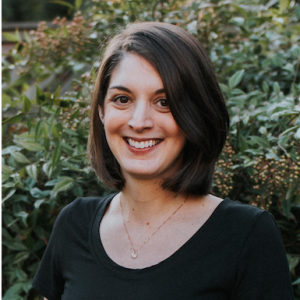 Meet WIT's board: MV Banks
All-veteran improv team Smoking and Joking competed, advanced in FIST 2023
WIT's Board of Directors seeks creative go-getters to help take WIT to the next level
One of the keys to WIT's success is our active and knowledgable board of directors. While these folks a lot of time and energy into our community, most of their work is behind the scenes. In this series, we'll introduce you to members of WIT's board.
After taking the WIT training program and playing on an indie team, Maria-Veronica (MV) Banks joined WIT's board of directors. By day she works in philanthropy.
Quick get-to-know-you: Describe your life in ten words or fewer.
Philanthropy nerd, hiking enthusiast, improv lover, tired mom.
How did you wind up in DC and how did you get introduced to improv and WIT?
I was raised in Arlington but swore to myself I'd never end up in DC because it's "too boring." And then, like many others, a job brought me back, but to the city itself instead of the burbs. I was determined to find folks who didn't start conversations with "So, what do you do?" and took an Improv For All course with WIT. I got hooked, took the whole curriculum, and ended up on an indie team. I have met incredible, unique, hilarious folks through WIT and recommend it to anyone who has just landed in DC as a way to meet new, funny people and to get out of your comfort zone.
You're a mom of two, including an infant. Has improv been a valuable skill as a parent?
Toddler play is much more fun when you embrace a "yes and" mindset! The dinosaur drives a firetruck? Yes! And he waters his garden with the firehose!
Improv forces you to live in the now – you can't think ahead and need to be attuned to your scene partner. Little kids grow SO fast, and improv has helped me stay in the moment with them as best as possible, and to be attuned to what makes them smile. I've often said that of course I want my kids to be kind above all, but a good sense of humor goes a long way. We could all learn a thing or two as improvisers from toddlers who truly have mastered "yes and."
Why is improv, and WIT in particular, important to you?
Improv, by its very nature, is an accepting and open space. You can't be turned away in a scene for being different – if anything, it's encouraged. WIT is the same way. Everyone, everyone, is welcome at WIT. Come as you are – we don't want you as anything other than yourself! Inclusive spaces are so important for so many groups of people, and I've seen firsthand how much improv, and WIT in particular, can act as that safe space for people to be themselves and flourish.
Why did you join WIT's board? What has the experience been like?
I joined WIT's board because I wanted to help an organization that not only helped me but helped others. I've spent my career in the nonprofit and philanthropic world, and figured I may be able to help WIT in that capacity. Honestly, the experience has been so much more than that in the best way possible. I've met incredible folks from a variety of different fields who are all a) hilarious and b) share the common goal of supporting WIT's mission and wanting WIT to grow and succeed.
What's something about WIT that you've learned as a board member that you didn't know before you joined the board?
I knew that Mark was a powerhouse leader when I joined but what I've loved seeing as a board member is how incredible the entire staff is at WIT. They are truly making the magic happen at every stage – finding new space, fundraising, organizing classes, putting on shows, keeping the books, managing relationships – and they do it all with a sense of humor. It's incredible to see and an honor to be a small part of it.
Lightning round
Are you a pirate, robot, or a ninja? Robot
Dogs or cats? Dogs
Last song you listened to? The entirety of the Bluey "soundtrack", on repeat, forever, until the end of time
TV recommendation? My go-to will always be Frasier
Improv advice that also applies to life?Accept people as they are – life is more fun that way
Published:
February 8, 2023