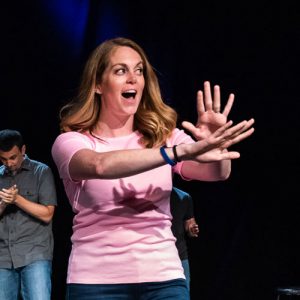 Should I put improv on my resume? Short answer: Yes!
Love Onion sunsets, auditions open for reconstituted team
WIT seeks volunteer members for board-led development committee
So you've taken a WIT class (or five) and now you know all about the power of "yes and," speaking with confidence, and working with teammates. But should you take the next step and actually put your improv experience on your resume?
The short answer is absolutely. WIT talked with improvisers and HR professionals Jeff Bollen (Starship Odyssey) and Jessica Norman (LIZARD GIRL, Starship Odyssey) about how to present your improv experience so that it is intriguing and appealing to prospective employers.
"Organizations want people who are comfortable navigating ambiguity, collaborative, curious, and can think on their feet. Who better than improvisers?" said Norman. "This is your opportunity to brag about how wonderful and fearless you are. So share how you get up on stage, look fear in the eyes, and create something from nothing with your teammates."
Here is their advice:
1. Share it for what it is: A skill
Add it to the bottom line of your resume under a section that includes your miscellaneous skills, activities, and qualifications. Just like taking a leadership course or learning HTML, your improv experience has developed tangible skills (in this instance, thinking on your feet, public speaking, adapting to new circumstances, etc.).
"Even if the employer hasn't listed skills that you'd normally associate with improv, you could still mention it deeper into your resume where you list other skills," said Bollen. "For example, many people list the computer programs they've used even if the job posting doesn't ask for that. So why not include improv? Hopefully it will be recognized as experience thinking on your feet!"
2. Be prepared to speak about it
When it comes time for the in-person interview, know how you are going to share the value of your improv experience. "Most people are going to ask you about it and I think it's a good opportunity to both shed light on what you do outside of work and also how improv skills make you a better employee than the other candidates in the room," said Norman.
3. Keep it professional
Write it in a way that seems professional and doesn't necessarily include quirky team names. This also prevents potential employers from searching your improv group's social media presences, as that's not the first impression you might want people to have.
"One major word of caution: don't try to be funny," said Bollen. "This is your resume, not Harold night. Sure, your colleagues and friends may get a kick out of seeing it on your resume when you ask their opinion, but anyone thinking in your best interests will suggest that you remove the shtick."
Improv is also professional development! You can sign up for an introductory Foundations of Improv class today or bring us to your office through WIT@Work (email john@witdc.org).