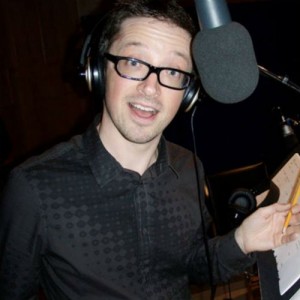 Q&A with Rick Adams: WIT student, TV host, and the voice of a talking piece of sushi
Q&A with Carrie Brickell: The woman responsible for WIT's awesome new look
WIT's Lisa Kays on the Parallels Between Therapy, Good Living, and Improv
A native Brit, Rick Adams is a voice over artist, producer and writer, as well as a current WIT student. In this interview, he talks about how his work has involved everything interviewing Jack Black to doing a voice for a cartoon about crime-fighting sushi. He also shares how improv gets him out of his own head and how WIT has "hugely" changed the way he sees the city of DC.
What inspired you to sign up for your first improv class with WIT? 
It seemed a lot less painful than a live organ transplant, and WIT has an amazing reputation. It's like the really hot girl at school, except you have to pay a fee to be with her, and other people get to be with her, too. OK, that might not have been the best analogy…
You're a professional voice over artist who's worked with companies like Disney, BBC, National Geographic, Smithsonian, and Nickelodeon. How did you get into this line of work? What's your favorite voice you've ever done, and why?
Well, I found a cassette of me and a friend re-enacting Star Wars when I was 8 years old, so I think it started around then! I desperately wanted to be a radio host and began by broadcasting to pregnant ladies in Hospital who found my voice so exciting that there were a lot of premature births that year. It led to me producing and hosting shows for Nickelodeon, the BBC, and Nat Geo, and then getting picked to be the lead on a cartoon for CBS called "Sushi Pack" (Crime fighting sushi! I was "Tako," naturally!). But the most fun I've had with my voice-on was executive producing and hosting a live, four-hour daily video/radio show for kids on AOL called Radio KOL. It was hugely silly and I got to interview Jack Black in the flesh, so that pretty much made my life complete!
What's the most challenging thing about improv, for you?
Listening and really trying to stay out of my head. I'm a writer and often end up being hired by companies like the BBC to write punch-up, to make their shows more comedic. So I caught myself trying to concoct funny lines in my head, which was exhausting. Once I learned to let go, it all got much better, and to my delight, much funnier!
You're originally from Britain. What brought you to the States, and to DC in particular?
Honestly? I watched the movie "E.T." when I was a kid and couldn't believe that American youth were allowed to sit around in their pj's ordering pizza themselves on the phone and play Dungeons and Dragons all at the same time. I wanted to do that! So America became a dream for me. Working for Nickelodeon led to me hosting "Slimetime Live" in Orlando and being covered in slime for days. Then the fantastic boss of Nick UK, Jon Miller, became the CEO of AOL and hired an amazing executive called Malcolm Bird. They both wanted me to do silly stuff for kids in America and thus my dream was secured! I have them both to thank for my amazing career!
Has getting involved with WIT changed your impressions of DC at all?
WIT has hugely changed how I think about DC. I have lived on and off here for over 12 years and seen the city change a lot in that time. The work I do as a producer for companies like Nat Geo and The Weather Channel is very lonely, insular work — you're tied to a laptop! I'd always wondered if there were others who were like me in the city but never had time to look. WIT made me realize that DC is FULL of amazing and talented, extremely fun-tastic people. Well done, DC, you saucy mistress!!
What's the last thing that made you laugh out loud?
A visit home. My parentals, who aren't exactly spring chickens, are often extremely silly (which explains how they're still married to each other after 59 years!). My dad was washing my mum's hair (by God these guys are cute!) and was pretending to be a rather camp hairdresser from the wrong side of town. My mum was also improvising, pretending to be a client with a mysterious past. I stood there, mouth open, witnessing something truly hilarious that would really have been at home onstage at WIT! So now you know where it comes from. I blame the parents…
If you want to get tickled to high heaven seeing WIT's performers, come see a show! Check our calendar for the latest listings.
Taking a class at WIT is a great way to meet new people and unleash your creativity. Sign up for a level one class today!
Published:
February 15, 2016