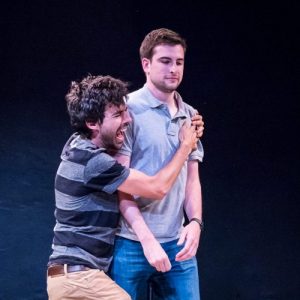 WIT Featured Ensemble LIZARD GIRL to hold auditions
WIT's partnership with ASAP provides catharsis and community for veterans
WIT ensemble Madeline to hold auditions
WIT Featured Ensemble LIZARD GIRL will hold auditions for new cast members on Saturday, February 1; Sunday, February 2; and Thursday, February 6.
If you are interested in auditioning, please read the following information thoroughly, then express your interest using this form by Monday, January 20, at 11:59pm.
If you have questions or concerns, please contact LIZARD GIRL at lizardgirl@witdc.org. We will do everything we can to schedule all prospective players who meet the audition requirements in the available time slots, but we reserve the right to limit the number of auditioners due to time and space constraints.  
Requirements to audition:
Must have availability (or be able to create availability) on Thursday nights for regular rehearsals. 

Must be able to commit to 2-4 weekend shows per WIT show run.

Must have graduated from the WIT classes program or an equivalent curriculum at another training center.

Must have at least six months of post-classes performance experience (examples include Harold program, Ensembles, Featured Ensembles, and special projects). If you aren't sure if your experience qualifies, please send us a message at

lizardgirl@witdc.org

.
Additional notes:
We're looking to add

1-3 new players

to our cast.

We strongly encourage people of color, LGBTQ+ people, female-identified, genderqueer, and nonbinary people to audition.
We are looking for players who bring the following strengths

:

Wide character range 

Emotional believability and ability to play grounded characters 

Quick onstage writing and editing ability, including a good sense of comedic pacing

Ability to quickly recognize and activate character deals, patterns, and relationship dynamics 

Ability to move seamlessly between varying styles of play (grounded/absurd, patient/fast and loose, etc.)

Ability to make fun, surprising moves that enhance rather than complicate a show 
More about LIZARD GIRL: 
LIZARD GIRL was formed as a WIT Harold team in May 2016. We performed Harolds until June 2018, when we began performing our current format, the Spokane (aka Pretty Flower). We use the Spokane as our format for all shows, sometimes adding twists, turns, and tweaks.

LIZARD GIRL became a Featured Ensemble

in April 2019. In LIZARD GIRL's case, this designation means:

We are

artistically autonomous

— we make our own decisions as a team about casting, coaching, and artistic direction.

WIT provides us with rehearsal and audition space

when available,

regular performance opportunities

, and some administrative/communications support (team listserv, limited promotion, etc.).

We are

responsible for paying our own coach

, and split the cost evenly among the team for all rehearsals, and for shows attended by our coach for the purpose of providing notes. All members pay whether they are in attendance or not. 

Being on a Featured Ensemble DOES NOT limit a player from being simultaneously cast on any type of team

, including other Featured Ensembles, Ensembles, and Harold teams.

Current cast: original cast members Mikey Blunschi, Shealy Molpus, Jessica Norman, Bryce Slinger, and Jared Smith; Lauren Woody (added May 2017) and David Brescia-Weiler (added February 2018).

Current coach: Jonathan Murphy

We are coached rather than directed, which means the team shares responsibility for all creative and artistic decisions, and our coach works with us to clarify and bring our vision to life.

We rehearse an average of 3 times per month on Thursdays (7:15-9:15pm @ LAYC – 1419 Columbia Rd. NW, across from Centronia). During rehearsals, we try to maximize our time by getting down to business.

We collectively share a love of big choices and surprise, dedication to both the craft and the team, and value the differences each player brings to the team. These are just some of the things that make being on LIZARD GIRL feel magical.

Our style is weird but not wacky, tawdry but not tacky, fast, loose, and often loud. Our love languages include spending time together and playfully poking fun at one another.
Published:
January 6, 2020