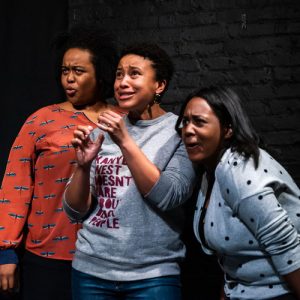 Lena Dunham, LIZARD GIRL, and Poetic Resistance become WIT's first "Featured Ensembles"
WIT Artistic and Executive Director Mark Chalfant: "I'm proud of the respect for the craft and community that are part of WIT's DNA"
WIT's Harold Teams Welcome 24 New Players
WIT is proud to announce the creation of the Featured Ensemble program—a move intended to broaden WIT's family of improvisers and increase diversity in its roster of acts. The first three groups invited to become featured ensembles are Lena Dunham, LIZARD GIRL, and Poetic Resistance.
The Featured Ensemble program is a way to:
give increased exposure to groups WIT recognizes as doing high quality work
give increased exposure to groups who center diverse voices that may be underrepresented on WIT's stage
delineate these groups from company ensembles, guest troupes, project shows, or directors series shows – and the restrictions thereof.
Featured ensembles will be given priority scheduling consideration in WIT runs, increased presence on WIT's website, and may serve as headliners in their show blocks (depending on scheduling factors). Other potential benefits may include artistic feedback from WIT's Artistic Director or other designated players, rehearsal space, and festival support. Arrangements may vary depending on the featured ensemble's needs.
Featured Ensemble relationships may last for some time between six to 12 months. At that time, both parties will revisit the arrangement, make possible adjustments, renew or let it lapse. Featured ensembles have autonomy over creative direction, casting, rehearsal schedules, and coaching.
Future Featured Ensembles will be onboarded in the future. Details will be released on that process at a later time, once this pilot is up and running.
Featured Ensembles
Lena Dunham – Having made their debut at WIT's Improvapalooza, Lena Dunham describes itself thus: "The black members from different improv troupes have joined forces to give you an inside look at what it means to be somebody's black friend." Lena Dunham features current and former members of Hellcat, iMusical, Madeline, and Love Onion.
Cast: Darnell Eaton, Derek Hayes, Erica Johnson, Eva Lewis, Jamal Newman, Krystal Ramseur, Nic Small
LIZARD GIRL – After two years as a mainstay of the Harold program, LIZARD GIRL has graduated to become a featured ensemble. Known for their high-energy shows, the team evolved to perform a Pretty Flower format towards the end of its tenure as a Harold team.
Cast: Mikey Blunschi, David Brescia-Weiler, Maria Halloran, Shealy Molpus, Jessica Norman, Bryce Slinger, Jared Smith, Lauren Woody
Poetic Resistance
Poetic Resistance turns poetry into improv and improv into poetry. In this long-running show, a local poet performs a piece. Inspired by the poem, the ensemble of improvisers performs scenes. Sparked by the scenes, another poet creates and performs an impromptu poem to close the show.
Cast: Erick Acuña, Caroline Chen, Ceci De Robertis, Christina Floriza, MaryLauran Hall, J.J. Jackson, Saleh Karaman, Richie Khanh, Krystal Ramseur, Ginnie Seger, Annie Gomez Vidal, Heather Marie Vitale, Jason Walther