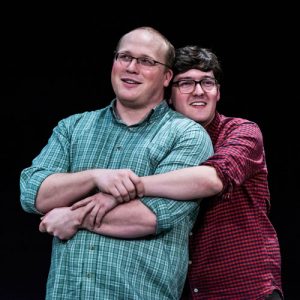 Harold Team Auditions to Take Place on Sept. 18, 21, and 22
Launchpad: Your guide to the creative shows in WIT's September run
Join WIT's Fantastic Forty
Washington Improv Theater's next auditions for our Harold team program are Sept. 18, 21, and 22. The deadline to sign up is Thursday, Sept. 5 at 11:59 p.m.
Early sign-ups are encouraged—if all slots are filled we may be unable to add more. Auditions are in one-hour blocks at Source (1835 14th St. NW) in the upstairs Rehearsal Room. Please contact jordana@witdc.org if you need special accommodations. Auditioners must sign up online to receive an audition slot.
Please note: Starting in October, WIT's Harold Night will shift a half-hour earlier with curtains at 7:30 PM and 8:30 PM. The shift will align with the start times of weekend programming for better consistency. This shift will also coincide with the debut of a bonus slot at 9:30 PM. This slot will feature the improv jam (no longer every week), The Lottery (which teams up students with WIT ensemble members), advanced class showcases, guest performances, ensemble performances, and Launchpad shows.
If you are interested in auditioning, please:
Review carefully the Harold Team Mission and Expectations Document to get a sense of the program's goals and how it works. There are recent updates to this document, so please review it even if you have done so previously.
Make sure you are eligible to audition. Eligible players:

have successfully completed the Harold class at WIT, or
are currently completing the Harold class at WIT, or
IN SOME CASES, have commensurate training and/or performance experience. Audition eligibility for people with these circumstances will be confirmed on a case-by-case basis.

Review the Auditions FAQ for more info on the process.
If you've reviewed everything and you are interested in committing to the program you can SIGN UP HERE for an audition slot.
WIT's next Harold team auditions (for the March through October 2020 cycle) will be held Thursday, March 12, Saturday, March 14, and Sunday, March 15, 2020. Check out WIT's current roster of Harold teams here.
Published:
August 20, 2019