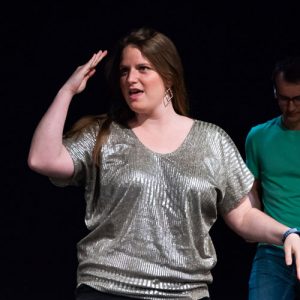 Launchpad: Your guide to the creative shows in WIT's September run
Farewell Love Onion, hello Uncle Gorgeous
Harold Team Auditions to Take Place on Sept. 18, 21, and 22
Somewhere between an Improvapalooza bit show and an ambitious Director's Series show lies Launchpad. Debuting as part of September's Road Show at DC Arts Center, the show features an eclectic mix of shows ranging from musical improv to explorations of climate change. Launchpad shows are Sept. 15, Sept. 19, and Sept. 22.
Here's your guide to what to expect in this run.
Climate Change: A comedy show and slow-moving, solvable disaster
Creator: Tom Di Liberto
What's the idea?: Climate change is scary but our future is still our choice. Come learn from a climate scientist what our future may hold for a city of your choice. And then let improvisers show, in a best and worst case scenario, how our decisions might affect everyday life in 2050.
Who's in it?: A cast of improvisers who want to get shit done about climate change
Why are you psyched to present this show?: Climate change is increasingly (thankfully) being discussed in everyday situations from the media to the dinner table. But it can still be a terrifying thought. But it doesn't have to be! We can at once recognize the problem at hand, learn what the consequences are, know how much work will be needed to put into it, AND laugh. I'm psyched to be able to take a super serious topic like climate change and bring it to the audience in a brand new way, hopefully inspiring action and courage.
It's a Wonderful Improvised Life
Creator: Kevin Mahoney
What's the idea?: A character wishes they were never born after befalling tragedy in a small town. Watch as their wish comes true!
Who's in it?: TBD
Why are you psyched to present this show?: By its nature, the show demands strong character deals, relationships, and world building. Then those are explored through an interesting twist in an emotionally charged second-act. Finally, its a nod to a holiday classic as we approach the season!
Soundbite
Creator: Ryan Brookshire
What's the idea?: Surprise-song soundbites inspire scenes. Each mystery track will evoke an emotional environment and invoke spirited new characters.
Who's in it?: A fresh hot mess of emotionally-committed improvisers
Why are you psyched to present this show?: I love the power of music to instantly engage an audience, to viscerally inspire surprising performances, and to electrically up a show's entertainment value!
The Coven
Creator: Cara Popecki
What's the idea?: This group of witchy women will help an audience member navigate a difficult decision with a combination of tarot and improv.
Who's in it?: Powerhouse women from across the DC scene: Kelsie Anderson, Krystal Ramseur, Kelsey Peters, Kara Kinsey, Jane White, Renan Snowden, Jenna Hall, Cara Popecki, Anna Ross, Olivia Martinez, and Justine Hipsky
Why are you psyched to present this show?: We are psyched because we're connected to psychic powers that already determined it will be an incredible show. Why? Because the audience and the performers will get deep and personal and make cosmic connections.
The Interview
Creator: Erick Acuña
What's the idea?: We'll do a show based on an interview of a DC-based entrepreneur. Our goal is to have people that are doing cool things in DC in any area (food, media, music, arts, etc.), and ask them about how they started, if they have any interesting anecdotes about their work, and so on.
Who's in it?: Experienced improvisers, including our Executive/Artistic Director Mark Chalfant!
Why are you psyched to present this show?: From Mark: I have wanted WIT to build an Armando-esque show, where we could feature a special guest. From Erick: Most top improv comedy theaters have an Assscat/Armando type of show. If it's based on a DC guest, I think this could be ours. We want to bring in audiences that may follow this guest but do not go to see improv. We want to expand this show to make it as inclusive and easy to digest for any type of audience. Additionally, it's a great opportunity to show DC some of the top WIT improvisers.
Veritas
Creator: Joe Randazzo
What's the idea?: Veritas tells the dramatic improvised story of a murder, told through police interrogations. But can you trust what you hear?
Who's in it?: Veteran dramatic improvisers: Darnell Eaton, Alex Kazanas, Joe Randazzo, Jane White, and Clarissa Zies
Why are you psyched to present this show?: I'm excited to do a dramatic improvised show with very personal and emotional stakes. I think the staging of the show is something that has never been done before and will be a new experience that will surprise people.
Set Piece
Creator: James Jelin & Kristina Martinez
What's the idea?: A fast-paced narrative where improvisers use their bodies to create objects, environments, and cinematic, show-stopping set pieces. The show will marry storytelling with a physicality that expands the possibilities of what can be done on an improv stage.
Who's in it?: James Jelin, Kristina Martinez, Neil Baron, Erick Acuña, Kelsey Peters, Jason Walther, Eva Lewis, and more!
Why are you psyched to present this show?: Improv that puts our bodies front and center! There is so much more that we can be doing on stage than standing and talking or waiting on the back line, and exploring being 100% physically active and present will push us to find stories and scenes we could never otherwise do on an improv stage.
Now How Come That Wouldn't Work?
Creator: Anna Ross
What's the idea?: Engineer-by-training Anna Ross solves an audience member's problem LIVE using an engineer's approach to problem solving.
Who's in it?: Anna Ross, industrial and systems engineer
Why are you psyched to present this show?: I've been playing with this idea for a while now! I'm interested to see what improv is when the players are one improviser and a whole audience. It will definitely be an experiment for the books!
Published:
August 23, 2019