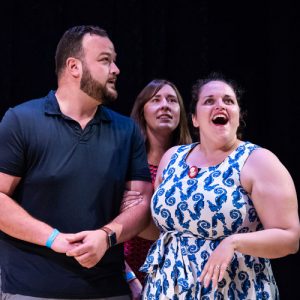 Join WIT's Fantastic Forty
Harold Team Auditions to Take Place on Sept. 18, 21, and 22
WIT presents a special Improv for All for parents and their kids (ages 10-12)
Bring WIT's life-changing work to the next level. For as little as $5 or $10 per month, you can give back to this one-of-a-kind community and make a real impact in sustaining our growth. Be one of the 40 new donors joining WIT's cause before August 31!
Each new monthly donor's name will be emblazoned with a sign on the Source lobby's "Wall of Glory" during Improvapalooza.
CHIP IN A LITTLE EACH MONTH HERE
Big reasons to become a monthly donor now
Keep WIT accessible. From the thriving community at Harold Night to Improv for All workshops all over DC, your donations support programming we do at low or no cost.
Keep WIT inclusive. WIT's nonprofit mission is to share improv with everyone, so we prioritize programming that's inclusive (Harold teams, featured ensemble Lena Dunham, ASL improv workshops and interpreted performances, Improv for All workshops in all eight wards).
Help meet rising costs. This year, we're experiencing some very real expense increases. Rental for black box use at Source is increasing considerably. Moving forward, costs to stage Harold Night will more than double, making your donations more needed than ever.
Why give monthly?
You give WIT stability. Because we can count on your regular donation, we can plan bigger and more ambitious projects!
It's the easiest option for you. "Set it and forget it." Know that you're regularly doing your part at a level that's right for you.
You get perks. We're launching a growing list of perks especially for monthly donors. You'll be looped into first access when special visiting artists do workshops,  early access to special events (like the FIST finals), and an invitation to a special donor appreciation show in 2020.
CHIP IN A LITTLE EACH MONTH HERE
Testimonials
Diversity scholarship recipient: [Improv]'s really about vulnerability and the willingness to share your imagination…  I want to continue learning and using the skills to do something comedy-related in my future. The grant offered to our class for free improv lessons helps a lot. I couldn't afford the classes otherwise. Improv is the dream I never knew I had.
Level One student: I'm now hooked. Also, I'm really into WIT's Improv is for Everyone philosophy. I'm 50 and worried I'd be too old… now I've seen so many awesome players of all ages and backgrounds and it inspires me so much!
Improv for All participant (who is now a Harold team member!): After a no good, horrible, very bad day at work last month, I decided on a whim to google "improv classes near me" and, lo and behold, WITwas offering a free workshop the next night. I'd never done improv before or any type of theater for that matter, but I love comedy and needed a laugh. Boy, did WIT deliver! I quickly developed an addiction to improv after that workshop and have attended several others over the past few weeks. I look forward to indulging my addiction further at upcoming Harold nights, more workshops, and when I begin Level 1 of the WIT curriculum in June.
Become a monthly donor now