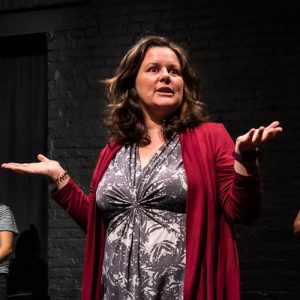 WIT presents a special Improv for All for parents and their kids (ages 10-12)
Join WIT's Fantastic Forty
Scholarship recipients share improv with teens in Summer Youth Employment Program
WIT proudly presents an Improv for All workshop designed for parents to take together with their kids! This two-hour workshop specifically focuses on kids ages 10-12 and will be taught by improviser (and mom) Ceci De Robertis.
Not a parent yourself? Share this information far and wide with anyone you think might be interested.
WIT's free introductory Improv for All workshops are high-fun, low-stress classes designed to show you how improvisers create spontaneous, off-the-cuff theater. Our enthusiastic and friendly instructors work to make sure everyone is able to participate in a playful and trusting atmosphere.
The workshop will be held on Sunday, Aug. 18, 2019, at 2:00 PM at Source (1835 14th St. NW). These workshops are free but registration is required. They tend to fully enroll.
This workshop is targeted to parents and kids, so if you'd rather sign up for a regular workshop, you can do so at witdc.org. We offer workshops for the general public all the time!
Please note: This workshop takes place in a second floor space with no elevator. If you have any accessibility concerns, please email wit@witdc.org.