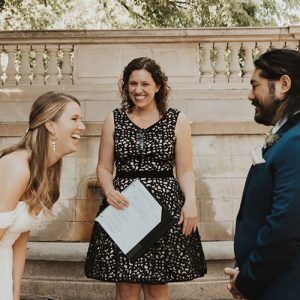 Entrepreneur Beth Z. Rosen brings improv skills to officiating weddings
WIT spotlights ten guests for upcoming People of the District performances
WIT Production And, Scene! Holding Auditions
Since founding her company two and a half years ago, WIT alum Beth Z. Rosen has helped couples say "yes, and" to their partner. Drunk in Love Weddings, LLC helps couples in the DMV make their weddings more joyous. Rosen discusses how improv has helped inform her work and why she's looking for more improvisers to serve as officiants.
What is Drunk in Love Weddings, LLC?
​​Drunk in Love Weddings is a team of WIT students and alumni who create and officiate joyful, personalized, and unique wedding ceremonies.
As the owner and founder, my goal is to tell and celebrate each couple's one-of-a-kind love story, instead of trying to fit everyone into the same mold. I've danced the night away at friends' fabulous wedding receptions that reflected their funny, quirky, progressive personalities. But many of those same weddings had stuffy, serious ceremonies that felt antiquated and impersonal.
 At Drunk in Love Weddings, I help couples avoid that by putting aside what they've been told they're "supposed to" do and discover what a truly authentic, meaningful, and fun ceremony would look like just for them. When I tell an atheist that he really doesn't need religion mentioned, or let an anxious introvert know that she doesn't have to say vows in front of everyone, it's elating to watch their tension melt. Those smiles of relief keep me in this work at least as much as the grand romantic moments. Then I'm free to create a ceremony that is not just unique, but fun, too! 
That's where WIT students and alumni get a chance to really shine. As officiants, we all draw on what we've learned in WIT and our comedy experience to add a dash of lightheartedness to our ceremonies — you may cry, but you'll laugh, too!
Drunk in Love Weddings welcome everyone, including those who aren't usually centered in the wedding industry, and celebrate lovebirds of all gender, races, and identities. Anytime a guest asks the newlyweds how many years they've been friends with their officiant, we know we've achieved our goal! And it feels amazing.
How did you get into the wedding business? 
Working in the wedding business has been a real surprise! My educational and professional background is in international economic development, and I previously worked for about a dozen years at multilateral banks and NGOs. Not exactly related.
 A few years ago, while I was thinking about switching careers, my cousin asked me if I would officiate her wedding. At the reception, I was overwhelmed by compliments and the many people who suggested that I officiate professionally. To which I replied, "Is that a job?" It turns out it is, and I registered the company name on the train ride home from the wedding!
How has the company fared since you founded it?
Even with the pandemic, Drunk in Love Weddings took off almost immediately. I discovered that there is huge demand for our services, so what was supposed to start off as a side hustle has completely taken off!
In 2 ½ years, we've already won WeddingWire's Couples' Choice Award in both 2022 and 2021, The Knot's Best of Weddings 2022, and was ranked the #1 officiant in Washington, DC by WeddingRule.com, the fastest-growing weddings editorial in the United States. Drunk in Love Weddings has officiated nearly 50 weddings and booked 80 couples, with many upcoming weddings on the books for 2022 and 2023.
We can't keep up with the demand! 
Speaking of which…we're hiring! We're looking for several Day-of Wedding Officiants & a Social Media Director. Check out the Careers page on our website here for more information.
How did you learn about WIT and why did you start taking improv classes?
This is a very DC answer. I learned about WIT from a friend in 2017 and signed up for classes right away. One year into the Trump administration, I felt exhausted, sad, and angry all the time, and I wanted to create more space in my life for joy. I love comedy and performing, and have always wanted to try improv, so it felt like the right time.
After five levels of classes, workshops, FIST, and countless shows, improv has taught me so much. I learned that anything on my mind was bound to come up, so unless I wanted every scene to be about leftist activism, I was had to let go of those thoughts and be present. WIT became a place for me to have fun, but also a way to practice focusing on the here and now. I don't think I would have started my business if I hadn't experienced that growth.
Drunk in Love Weddings is completely centered on joy and human connection. I still do my best to fight the good fight, but I also love getting to know happy couples, working with the team, and watching a bride laugh so hard she nearly topples over. So thank you, WIT.
You specifically reached out to the WIT community when it came to recruiting officiants. Why were you interested in improvisers specifically?
Improv people rock! I love spending time and working with other improvisers!
Being a part of the WIT community, in particular, has been meaningful and I've gotten to explore a whole other side of DC. I've made fabulous friends I might not have met otherwise, been a part of a weird and wonderful indie team (shout out to Fire Baby!) and discovered that behind a suit you may find someone who is down to bark like a dog in public. That collaborative spirit, openness, and sense of fun is a perfect fit for Drunk in Love Weddings.
Improv also teaches many of the skills that make a great officiant. You can count on improvisers to listen closely, speak confidently in front of a crowd, get everyone to laugh, and roll with whatever happens in the moment. It's perfect!
Do you have any examples of something unexpected happening during a ceremony which made you rely on your improv instincts?
One afternoon, I officiated a small backyard wedding. It was just the couple, their toddler, and few friends and relatives. In the middle of the ceremony, as the bride was saying her vows, their little son squealed "Nooooooooo I want Mommy to take me!!"
Apparently, he was in the middle of potty training and refused to go to the bathroom with anyone besides mom. The bride stopped, threw me an embarrassed look, grabbed him, and ran into the house as fast as her wedding dress and heels would allow.
 I made a few jokes (definitely at the toddler's expense) while the rest of us sat and waited. After a couple of minutes they returned, the bride apologizing profusely. She tossed her son back to her parents, dashed up back the aisle, and asked if she should continue. I said yes, but first I have a question. I gave the couple and their guests a serious look. "Does anyone else have to go potty?" They loved it.
What are the biggest improv skills that come in handy as a wedding officiant?
So many of my improv skills come into play! My performance skills and comfort speaking in front of a crowd have been absolutely essential. Being able to inject humor into the ceremony is a key part of our services, and improv definitely helps with that.
It also helps with the operational side of things. I officiated just one professional wedding before the pandemic hit, scrambling all wedding plans. Since then, I've had to be creative, flexible, and adaptive. I've officiated Zoom weddings, discovered outdoor spots for elopements, and rolled with dozens of couples rescheduling, sometimes three or more times. Health and safety is Drunk in Love Weddings' top priority.
My favorite improv skill that I use the ability to keep a straight face when someone says something absolutely bananas. Because the wedding ceremonies are so personalized, I get to know the couples pretty well and people are weird! Improv has helped me to keep a neutral face when clients have told me about poking each other's buttholes or making dinosaur sounds at each other, and one time, when clients invited me to their wedding night boudoir. (I politely declined.)
Check out Drunk in Love Weddings and their officiant services. Looking to meet funny people and embrace your humorous side? Take a class with WIT.