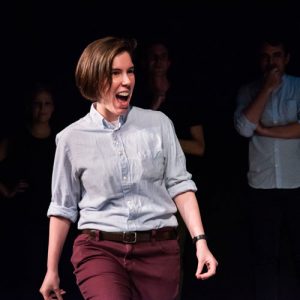 Stacey Axler
Washington Improv Theater
Kevin Koeser
Andrew Dickinson
Stacey Axler has been interested in comedy since watching an episode of Everybody Loves Raymond one night in 2001.
Stacey completed the WIT curriculum in 2017, completed the Dojo Comedy curriculum in 2016, and is a member of the Dojo Comedy Harold team Tool Boy.
Stacey also performs stand-up comedy, hosts a monthly comedy show, and also hosts a monthly bagel talk show.
Photo by Ryan Holloway
Favorite historical figure
Amelia Earhart
Favorite snack
Half a bagel