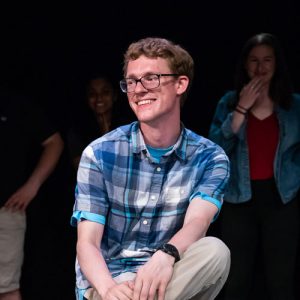 Kevin Koeser
Washington Improv Theater
Lauren Boston
Stacey Axler
Kevin has lived around DC nearly all his life and has been doing improv for almost as long as that.
Kevin started performing improv in high school, continued through college, and post-graduation has completed the entire WIT curriculum along with the monoscene elective. He also performs the indie team The Getting Pumped Gang.
In college Kevin took a double major in film studies and mathematics and while he's forgotten most of the latter, he continues to obsess about the former to this day. He currently works providing A/V services to hotels in the DC area. Feel free to approach him with your opinions on movies you love or questions about what TV show you should be watching.
Childhood nickname
Wheelie Backpack Kid
Favorite historical figure
Bertolt Brecht