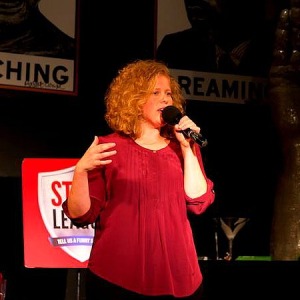 Rachel Dry
Washington Improv Theater
Whitney Brimfield
Megan Cummings
Growing up, listening to the "2000 year old man" in the car on the way the Hebrew school in Rutland, Vermont influenced Rachel to be funny.
It also helped her realize that being funny could make 90 minutes of carpooling three times a week somewhat more tolerable. Rachel's superpower is elevator small talk. Gonna nail it every time. You're not going to want the doors to open.
Rachel is originally from Middlebury, Vermont but has lived in D.C. for almost a decade. She performs stand-up around town regularly and confronts social media anxiety semi-regularly on Twitter — @rachel_dry.

Photo © 2014 by Andy DelGiudice / Ben Droz Photography and Story League LLC
Three-ingredient recipe for unexpected guests
Quinoa, curry, smugness (goes with the quinoa)
Fake advice column name
Ugh, I Know, But Your Mother Was Right About This One Too