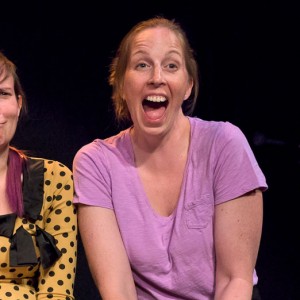 Megan Cummings
Washington Improv Theater
Rachel Dry
Paul Hitlin
When Megan visited Chicago, she got to watch her friend's first improv showcase and she was hooked
When she returned to DC, she signed up for WIT classes immediately. That was back in 2009, and that friend was Ules Ruffy* who plays with Ommonwealth*. Since taking all the WIT classes, training at UCB in NYC, and playing with indie troupes Subsidized Corn and Sadie Hawkins, Megan figured she better get seriouser about improv.
Although she enjoys auditioning just for the fun of it, King Bee and The October Issue thought she had potential. She said "Yes!" and the rest is blissful history. Her favorite improv experiences come from performing in traveling shows, most notably in the Adelaide Fringe Festival, Del Close Marathons and her hometown of Lenoir, NC.
* names have been changed to protect the innocent.
Photo by Jeff Salmore
Favorite Snack
Peanut butter