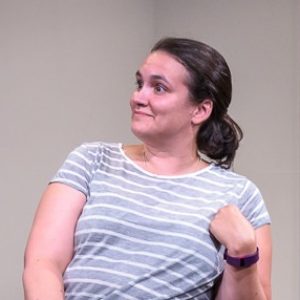 Molly Graham
Washington Improv Theater
Emily Crovella
Kevin Mahoney
Molly began her artistic life as a musical theater nerd on the middle school stages of Pittsburgh, PA. She has never gotten any cooler.
When she was 10, she performed the entirety of the Lion King (including the stampede scene) for a sold out crowd of her captive family. Other accomplishments include completing WIT's curriculum, performing in an Improvapalooza or two, and helping to found indie team The Quitters.
For money, Molly provides tech support to policy wonks (mostly because it's such fun to say), and waits all year for the one week each summer that she gets to spend at summer camp with the youths from Dreams of Hope; a Pittsburgh LGBT non-profit focused on arts enrichment and social change via the unbridled power of teenagers. She wants to learn piano.
Hidden Talent
Folding a fitted sheet in a Perfect Square without the use of magic
Personal Motto
We can make that at home