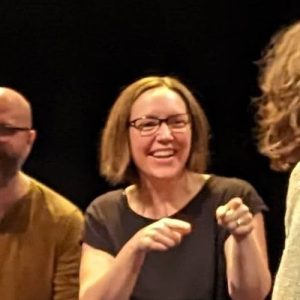 Liz Lowry
(she/her)
Washington Improv Theater
Matthew Schwartz
Leslie Turner
Liz takes great pleasure in making people laugh.
An improv and sketch comedy fan from an early age (SNL, Whose Line is it Anyway?, Kids in the Hall), Liz took her first improv class in 2012 with a grad school friend at the Bovine School of Improv in Denver, CO. After moving to DC, she continued her improv journey with a WIT class and two appearances in the annual FIST tournament. She subsequently took an eight-year hiatus to give birth to two children, keep them alive with her husband's help, and hold down a job.
In the spring of 2022, Liz left her corporate job, started working for herself as a marketing consultant, and rediscovered improv. Turns out it was even more fun than she remembered AND she got to hang out with some of the nicest, funniest people in DC! She finished the WIT curriculum over the next year and is now a giddy member of WIT's Harold team program.
In her free time, Liz enjoys walking around DC listening to self-help podcasts and shuttling her children to various activities across the DMV.
Personal hero
Dolly Parton
Personal motto
Speak your truth, follow your joy, and take the stairs.