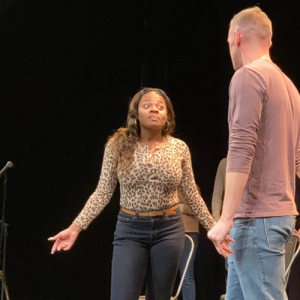 Leslie Turner
(she/her)
Washington Improv Theater
Liz Lowry
Kelly Shannon
I may not have all the answers, but I do have all the jokes.
Leslie finished the WIT curriculum in Summer 2023. She has performed in Palooza 2022 and 2023 as well as FIST 2023.
From Columbus, Ohio, Leslie is apublic health enthusiast whose favorite movie is Love Jones. She received a bachelor's degree in cultural anthropology because she admires humans and all of our experiences – and this is what she hopes to portray on stage.
Her favorite season is fall and favorite holiday is Halloween.
Personal hero
Great Grandmother
Personal motto
Life is a playground, so it's all right to play around