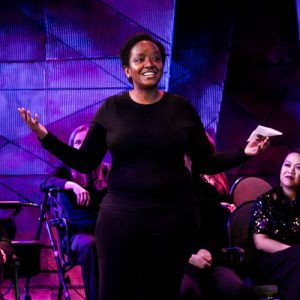 Kalynn Chambers
Washington Improv Theater
Natalia Kaye
Allison Yolo
After being rejected from her high school's production of 'Steel Magnolias' Kalynn was unsure if she would ever see the stage again. Fortunately, once she moved from Durham, NC she found improv. She would also just like to say that cold readings are the work of the devil!
Kalynn has completed the WIT Core Curriculum and is currently on Trust Issues (Indie Team). She has previously played on Thermal Runway (Laugh Index Theatre), Thick Thighs Save Lives, and Half and Half (FIST). She also performed in WIT's The Feminine Experience.
When not on stage Kalynn debates whether or not she should learn to play the guitar that has been sitting in the corner of her living room collecting dust for several years. When not debating with herself, Kalynn dances until her lil heart is content.

We ask that you please respect her privacy at this time as she recovers from being an engineer for the last 10 years of her life. Her goal is to go from setting swing stages to tearing them up!
..its a construction joke…because she worked in construct– never mind.
Favorite Color
Apple Green