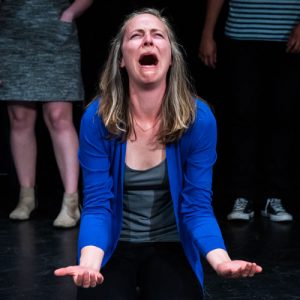 Allison Yolo
(she/her)
Washington Improv Theater
Kalynn Chambers
JoJo Franzen
Allison got the improv bug in 2001. As much as she loves to perform, she can confidently decline to perform those "make 'em ups" when asked to do so at parties.
Allison Yolo is an actor who often prefers to make up her own lines versus memorizing them. She started improvising with her college team at Western Washington University while studying theatre. She continued on, moving to Chicago to study at iO, SecondCity and Annoyance. She performed on several teams at iO and independently. Theatrically, she is a graduate of the Steppenwolf Summer intensive program. Contrary to the opening sentence, she looks forward to being in a full theatre production in the future. She has loved being involved with WIT since moving here in 2019.
By day, Allison feels very lucky to be a full time parent. Her nuclear family went from 3 to 5 at the beginning of the pandemic and life has been crazy ever since! When she's not parenting, she is scheming for her next solo excursion to a good thrift store.
Personal Hero
My partner (awwwww)
Favorite Snack
On a tough day - Twizzlers