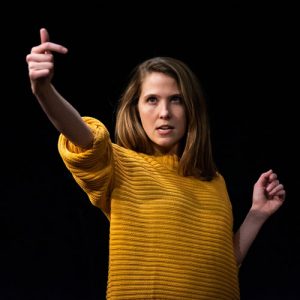 JoJo Franzen
(she/her)
Washington Improv Theater
Allison Yolo
Bethany Stokes
JoJo Franzen likes maple syrup, green things, and destroying her friends and enemies in competitive board games.
JoJo emerged from the Skyways of Minneapolis and started taking improv classes at HUGE Improv Theater and Brave New Workshop. In Minnesota, she was part of Snack Time, an improv team that repeatedly stranded themselves in the middle of a real lake on a broken pontoon boat. After moving to D.C., JoJo took classes at WIT and started improvising with (currently land-based) indie-team Huggy Smalls.
JoJo also writes humor in her spare time, and her work has been published on McSweeney's Internet Tendency, The Belladonna Comedy, and Points in Case. JoJo believes that breakfast is the most important meal of the day and enjoys a hearty bowl of oatmeal in the morning.
Personal Hero
Michelangelo (he's a party dude)
Best Dance Move
My personal choreography to "Spice Up Your Life"
Favorite Word
Information Superhighway