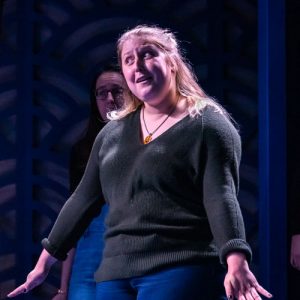 Bethany Stokes
(she/her)
Washington Improv Theater
JoJo Franzen
Maddie Black
Bethany's first improv experience was being the acapella-singing opener for one of University of Connecticut's improv groups for one night only in 2010. She waited seven years, a few identity crises, and many glasses of wine later to finally try out improv for herself!
Bethany started her improv education at WIT spontaneously in 2017 and graduated in March 2019. She is currently in an soon-to-be-named indie improv group.
By day, Bethany is a research technician in a developmental biology laboratory. By night, if she's not improvising, she is most likely going to a cheap indie rock/punk/pop concert with friends, hosting trivia nights at a local bar, or chilling with her main squeeze, a Australian shepherd/border collie mix named Tucker.
Personal Hero
Aubrey Plaza
Personal Motto
All problems can be solved by listening to Simple Plan
Favorite Snack
Cheese and crackers